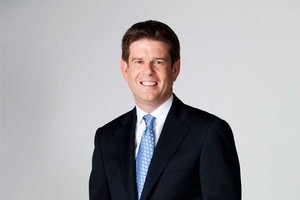 A fascinating fight is brewing for control of MediaWorks - owner of TV3, TV4, Radio Live and several other stations. It's a subtle and complex story with not much being said on the record so here's the short version: TV3 is owned by a big shark but a much bigger shark just turned up, took a bite and said it wants to eat the whole lot.
Okay, before this column jumps the shark, here's a slightly more detailed take.
MediaWorks is owned by a private equity company called Ironbridge Capital but it has a lot of debt - nearly $400 million of which is held by a group of banks.
One of those banks, Commonwealth Bank of Australia, has sold about $70 million worth of debt to another private equity player, TPG Capital, which has started hinting to the market that it is interested in taking over the whole lot. In other words TPG sees some value in TV3 et al and believes it can restructure it, pay down debt and make a buck out of it.
If TPG can convince the other banks to cut their losses and sell the debt cheaply (they are understood to have picked up the $70 million from Commonwealth Bank at 70c in the dollar) then they could end up owning MediaWorks for less than half the price that Ironbridge paid for it.
Ironbridge bought MediaWorks in 2007 for more than $700 million, including liabilities, in a deal mostly funded by more debt. That's how deals were done pre-global financial crisis. Like so many of those deals done at that time, things got pretty ugly pretty fast as tough economic times saw ad revenues falling and equity values fall sharply.
Suddenly debt levels that looked manageable became marginal and Ironbridge has been under pressure from bankers all the way through its time in control of MediaWorks.
But this is by no means a done deal. Ironbridge definitely does not want to give up control. It has been working closely with the banks for some time on a long-term strategy for paying down the debt and getting the company back on track.
It still believes in that strategy and isn't ready to cut its losses yet.
Hence the comment that there is a lively fight brewing.
The TPG guys are really big - like Texas size (TPG stands for Texas Pacific Group). They have some US$48 billion ($63 billion) worth of investment under management. Ironbridge has about A$1.5 billion ($2 billion) of committed capital, according to its website.
Given the speed with which TPG has let its intentions be known to the market, you can expect they aren't afraid to shake things up a bit.
We are likely to get a war of words and leaked stories over the coming months from both sides - neither of which will be saying much on the record.
The Ironbridge camp are keen to emphasise that TPG currently own only 17 per cent of the MediaWorks' debt. That's a long way shy of being in a position to take control.
Ironbridge might also add that controlling the debt doesn't necessarily mean you control the company depending on what sort of equity value you put on it. In other words what it is worth above and beyond the debt. It has been argued - although Ironbridge have always disputed it - that the company is worth less than the total debt, so that is a moot point.
So should fans of TV3 and TV4 and all its fine local content be worried? Does it make a difference if one private equity company or another ultimately holds the purse strings? It is very hard to say. Ironbridge has a reputation for being a tough owner but then they've had to be because they have had the banks on their back all the way.
And on the plus side they've always recognised the importance of looking after the brand and have allowed MediaWorks to stick with shows such as Campbell Live and keep trying to grab a slice of the breakfast market, launching a new show this year after the first one failed.
There has been talk they might invest another $20 million into the business next year.
On the other hand if TPG can get control of MediaWorks at a discount then they may be under less pressure to put the squeeze on it.
Private equity generally has a reputation for being ruthless but put that to them and most will argue strenuously that they are the long-term-focused, big-hearted exception to the rule.
twitter.com/liamdann