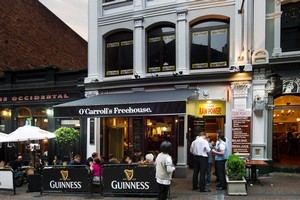 Bayleys sold close to 30 properties at one of its most successful Total Property portfolio auctions to end the commercial and industrial property year on a strong note. More than three quarters of the offerings for sale in Auckland sold under the hammer - or pre- and post-auction - at a total value of more than $26 million.
"To date we have sold 28 out of the 36 properties offered for auction and expect to increase that number, with active negotiations continuing on a number of those passed in," says Chris Bayley, Bayleys' general manager, commercial and industrial.
"This is quite a remarkable result considering the uncertainty currently prevailing in investment markets. I think it partly reflects a movement away from very volatile equity markets to more stable investments such as property and bonds. But it is also a clear indication most investors perceive property to be in the early stages of a cyclical recovery. And vendors are also appreciating that properties have to be realistically priced to sell in the current market given the downward correction in values that has occurred over the past few years."
Bayley says there was good bidding on most properties, particularly investment offerings under $1 million. "There was also a noticeable increase in interest in lesser-quality properties which, while they might not have ticked all the boxes from a passive investment point of view, did offer opportunities to add value for more entrepreneurial investors. This type of investor now appears to be more willing to 'take a punt' on property given there are clear signs of
the market recovering."
The highest sale price fetched at the auction was the $3,625,000 for the historic 455 sq m O'Carroll's Freehouse building at 10 Vulcan Lane, in Auckland's CBD which sold at a 6.3 per cent yield through Robert Platt and Henry Thompson of Bayleys Auckland.
It has a 10-year lease from April 2010 on the lower two levels of the fully leased five-level building, constructed over a century ago. The levels above are occupied by the Raw Power Organic Cafe and office tenants in refurbished character space.
Attracting the most spirited bidding at the auction were five smaller strata title retail units with new six-year leases on the ground floor of The Terraces, a recently completed mixed-use residential and commercial development, on the corner of Wellington St and Fencible Drive, in the heart of Howick village.
The offerings attracted multiple bids from investors in the auction room as well as several telephone bidders. Two of the offerings were sold to a Singaporean telephone bidder: an 82 sq m retail unit occupied by Sweet Home gift store for $432,000 and another similar-sized unit occupied by Howick Wines & Spirits for $420,000, both at 7.1 per cent yields. The sales were concluded by Geoff Wyatt, Bayleys Manukau and James Chan, Bayleys Auckland.
Wyatt also sold a Terraces unit occupied by Stomps Kids Shoes for $425,000 at a 7.2 per cent yield and joined forces with Katie Wu, Bayleys Manukau in the sale of a unit occupied by a chiropractic and naturopathy practice for $410,000 at a 7.5 per cent yield; and 125 sq m premises occupied by Craze Hair for $618,000 at a 7.4 per cent yield.
Two properties in the Terraces were also sold post-auction by Wyatt: a 314sq m unit occupied by Jets Gym on a new eight-year lease went for $1,015,000 at an 8.5 per cent yield; and a vacant 81 sq m retail unit was bought for $381,000 by an owner occupier.
Of interest to West Auckland residents was the sale of a 1.3688 ha redevelopment site between State Highway 16 and the Kaipara River in Helensville, containing the derelict former Helensville dairy factory. The property, with around 6000 sq m of rundown and vacant buildings, was sold under the hammer for $425,000 by John Algie and Nigel McNeill of Bayleys Auckland.
Another feature of the Total Property auction was the sale of all five properties up for auction on the North Shore. A 301 sq m retail building on 1012 sq m site at 327 Albany Highway, Albany sold for $1,550,000 at an 8.45 per cent yield through Nicolas Ching and James Chan, Bayleys Auckland. Hell Pizza is the largest tenant occupying 147 sq m.
A modern 604 sq m two-storey office building with three tenancies on a 1188 sq m site at 1 Airborne Rd, Albany sold for $1,425,000 at a 9.2 per cent yield through Caleb Belling and Christina Heaven of Bayleys North Shore Commercial.
Heaven and Belling also joined forces in the sale of 110 sq m ground floor unit in a two-level 1950s building located on the corner of Clyde Rd and Anzac Rd in Browns Bay for $824,000 at a 6.8 per cent yield. Browns Bay Realty Limited, trading as Ray White, which has been the tenant since 2004 has a new three-year term from February 2011.
At 605 Beach Rd, Rothesay Bay, a long-established superette and an adjoining three-bedroom weatherboard house on a 744 sq m site sold for $701,111 at a 6.3 per cent yield through Richard Yang and Nicolas Ching of Bayleys Auckland.
Also selling prior to auction for $1,145,000 at a 6.9 per cent yield through Rob Farmer, Bayleys Manukau was a 696 sq m retail and showroom building on a 814sq m site at 130 Wairau Rd in the Wairau Valley. Elite Fitness has recently renewed its lease for a further three years.
There was strong bidding on a range of South Auckland properties at the auction. The first, a 431 sq building at 229 Great South Rd in central Papatoetoe generated plenty of competition before selling for $820,000 at a 7.3 per cent yield through Tony Chaudhary and Geoff Wyatt, Bayleys Manukau. Long-term tenant Image Realty, trading as Harcourts, recently re-signed its lease until March 2016.
Two Papakura properties also attracted plenty of interest. Bidding was slow to begin with on a 1442 sq m warehouse and office building on a 6334 sq m site on the corner of Croskery Rd and Hunua Rd. However, once it was declared "on the market" at just over $1.6 million, two parties fought it out until the hammer fell at $1,835,000. It sold at a 7.8 per cent yield on a 10-year lease from May 2011 to Addison Group, with McConnell Group as guarantors, through
Mike Ashton and Peter Mignounoff, Bayleys Counties and Mike Adams, Bayleys Auckland.
Two bidders also fought it out for a 570 sq m semi vacant building on a 1007 sq m site at 77 Great South Rd, Papakura which sold for $606,000 through Mignounoff and Ashton after a series of $1000 bid increases. A monthly tenancy on part of the building produces annual holding income of $42,000.
Further south a 471 sq m childcare centre at 30 Dublin St, Pukekohe leased to ABC Developmental Learning Centres (NZ) for 10 years from June 2007 also sold under the hammer for $1,105,000 at an 8.6 per cent yield, after being declared on the market at $905,000. On a 2066 sq m site on the fringe of Pukekohe's CBD, it was sold by Shane Snijder of Bayleys Counties, David Bayley of Bayleys Auckland and Tony Chaudhary of Bayleys Manukau.
Selling post-auction were a 1105 sq m business development site at 322 Hingaia Rd, Karaka for $475,000 through Mike Ashton and Peter Mignounoff, Bayleys Counties and a 500 sq m retail outlet on a 612 sq m site at Fair Mall, Otara for $1,550,000. The latter was sold at an 8.5 per cent yield on a six year lease from April 2011 to Sunlight International through Tony Chaudhary and Vivienne Lee, Bayleys Manukau.
Selling prior to the auction was a 169 sq m retail outlet in the Pacific Sq Retail Plaza, in Great South Rd, Manukau. It was sold for $460,000 at an 8.7 per cent yield with a new four-year lease to the Tofu Shop through Robert Platt, Bayleys Auckland, and Tony Chaudhary, Bayleys Manukau.
In Paeroa, a 971 sq m single level air-conditioned office building on 2,501 sq m site on the corner of William and Marshall Streets sold prior to the action for $1,325,000 at a 9.3 per cent yield through Brendon and Lynn Bradley of Bayleys Tauranga. The anchor tenant is NZX- listed Opus International on a nine-year lease from 2007.