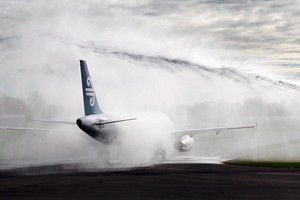 Investor reaction to an update from Air New Zealand last month has pushed the company's stock to its lowest level in more than two years - and it is still searching for the runway with shares closing down 1c yesterday at 88c.
At the beginning of the year the airline was trading above $1.50 a share but it has since faced the fallout from natural disasters at home and in Japan, and a global economy lurching from one crisis to another.
Not the best of environments for a tourism and business traveller operator.
At its investor update last month Air New Zealand said it had challenging operating conditions. Forward bookings were being affected by economic uncertainty in a number of markets, persistent high fuel prices and a slow recovery in Japan.
"Overall, [we] still expect some improvement in the result over the previous year but the extent of the improvement will be impacted by external economic conditions," it said.
No specific numbers were given but the market got the message and the share price began losing altitude.
Air New Zealand said in August it was reviewing long-haul routes which were bleeding more than $1 million a week.
ON THE BLOCK
Meanwhile, the Government is lining up Air New Zealand as part of its asset sale plans. It could reduce its stake in the airline from 73.4 per cent to 51 per cent.
Such a move can create an overhang effect by discouraging on-market purchases today in favour of a potentially discounted government sell-off tomorrow.
But given the market challenges the company is facing, in what is at the best of times a tough industry, the overhang is likely to be a side issue.
The airline is seen as being well positioned and the sell-down will boost liquidity while retaining the security of having the Government keeping skin in the game.
If the world stops worrying, the eurozone gets to grips with its troubles and western economies get back on the front foot, then Air New Zealand could shift its flightpath and start to climb.
But right now those are big "ifs" and while a change in the risk profile of its markets would likely be positive for the share price, the bigger driver will be earnings.
CROSSING THE DITCH
Hellaby Holdings is eyeing acquisitions across the Tasman and expects that a third of its revenues will be made in Australia by 2015, up from around 5 per cent now.
The Auckland-based investment company operates a range of subsidiaries in the industrial, retail and distribution sectors in New Zealand and Australia, including shoe retailers Hannahs and Number One Shoes.
In an investor update this week chief executive John Williamson said the firm had identified a number of opportunities for future investment, including Australian acquisitions and bolstering its automotive and packaging divisions.
"We understand the pitfalls of Australian expansion, but equally we see opportunities.
"Our investment approach will be patient and selective. We're not interested in acquiring simply to demonstrate traction, and we'll only make acquisitions if we believe they will create shareholder value," Williamson said.
Hellaby shares, which have been one of the best performing stocks on the NZX this year, closed up 2c at $2.47 last night.
MONEY OR WEB
Congratulations to Fletcher Building, for winning the latest Best Investor Website Awards, supported by the Shareholders' Association, and a raspberry for Michael Hill International, which came dead last out of the NZX-50 companies.
But hang on a minute: Fletcher Building's total return so far this year? Minus 16 per cent. Michael Hill? Plus 10.24 per cent.
Call us cynical, but Stock Takes suspects that given a choice between a friendly website and a decent return, most investors would take the money.
KIWISAVER WINNERS
FundSource has given its KiwiSaver fund manager of the year award to Fidelity Life.
FundSource said its annual funds management awards had been carried out against the backdrop of change in the funds management industry.
FundSource spokeswoman Rachael Newsome said Fidelity had been singled out for its transparent fee structure and steady fund performance.
She said FundSource had decided not to convey top honours in the overall fund manager of the year category 2011 because of upheaval in the industry.
"Across the broader funds management industry, major structural changes have been evident throughout the year," she said.
"At the same time, fund managers are gearing up to meet the changed requirements of financial advice legislation."
She said FundSource also gave the thumbs up to Milford Income Fund, run by Milford Assets Management, which focuses on higher yield, fixed income and dividend paying companies.
- Additional reporting: APNZ