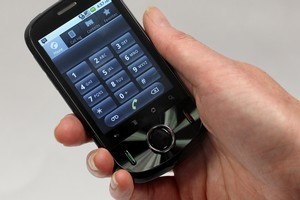 AHuawei mobile phone. Photo / Natalie Slade
Chorus has signed an equipment deal with telecommunications giant Huawei, strengthening the Chinese company's foothold in New Zealand.
The supply agreement lets Chorus use Huawei technology to increase capacity over existing rural fibre optic cable. This will aid in rollout of fibre lines in the rural broadband initiative (RBI), said Chorus' Chris Dyhrberg.
"Huawei's [equipment] will help us reliably increase the capacity on our existing network, without the need to deploy additional fibre cables," he said.
"Proven technologies such as these will help the Crown's RBI investment go further, extending the reach of world-class broadband beyond the agreed targets," Dyhrberg said.
The Government announced in April it would partner both Telecom and Vodafone in the internet initiative, which aims to offer more than 80 per cent of rural households internet speeds of at least five megabits per second over the next six years.
Within that time, 93 per cent of rural schools will also get internet speeds of 100 megabits per second.
After Telecom's split with network-arm Chorus last month, the infrastructure company will be responsible for the rollout of 3100km of fibre cables in rural New Zealand and Vodafone will build 154 cell towers providing fixed, wireless and mobile internet.
The broadband build is expected to cost up to $500 million and will be funded through a $285 million industry levy, with Chorus and Vodafone footing the remainder of the bill.
Chorus shares closed down 10c at $2.97 yesterday.
The deal also extends the reach of Huawei in New Zealand.
"It represents another huge step forward for Huawei in New Zealand. We are committed to helping provide the entire country with access to better internet connectivity, and working with leading operators like Chorus helps us to achieve this," said Arthur Zhang, Huawei New Zealand's chief executive.
Last month, Ultrafast Fibre Ltd (UFL) announced it had signed an equipment agreement with Huawei.
UFL is the Government's partner in the ultra-fast broadband scheme for the central North Island.
The Chinese company's technology was used to build 2degrees' mobile infrastructure and this year Huawei won a $140 million contract to extend 2degrees' network.
It also released a number of its own mobile phones into the market.
Huawei was founded in 1987 by Ren Zhengfei, a former officer in China's army and operates in more than 140 countries, touching a third of the world's population.
It opened offices in New Zealand in 2005.
CHINESE GIANT
* Huawei was founded in 1987 by Ren Zhengfei, a former officer in China's army.
* The giant telco operates in more than 140 countries, reaching a third of the world's population.
* It opened offices in New Zealand in 2005 and has more than 80 local employees.
* Huawei technology is the foundation of 2degrees' mobile network.