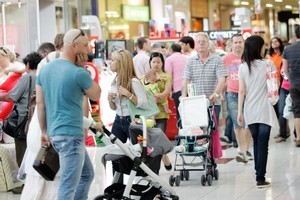 Investors in Australia's retailers might just get their Christmas wish this year if the latest sales forecasts for the sector are anything to go by.
Shoppers are expected to spend about A$1100 ($1450) each in the lead-up to the festive season, bringing total sales in the four weeks before Christmas to A$25 billion, according to data from the Australian National Retailers Association.
"We are predicting a 3.85 per cent increase in spending in 2011 compared with 2010," ANRA chief executive Margy Osmond said.
Retailer stocks have taken a bashing this year, with the S&P/ASX 200 Retailing index losing 30 per cent, as consumer spending has plummeted in the face of the economic downturn and more shoppers are heading online to get the most for their money.
But dealers said the two rate cuts in November and December by the Reserve Bank of Australia, which would shave about A$100 a month off repayments on a A$300,000 mortgage, could breathe some festive cheer into the industry.
Chief investment officer of Platypus Asset Management's Australian equities fund Donald Williams said he has bought into the sector with shares in JB Hi-Fi since the rate cut.
"We've had three pretty miserable Christmases in a row so I'd be surprised if we had four, especially after the rate cut," he said. "I've been neutral to underweight on the sector this year but if we see a pick-up in consumer spending the whole sector could perform better."
Other analysts were less convinced.
IBISWorld senior analyst Ian MacGowan said he expected growth in highstreet spending to be "only barely positive" when accounting for inflation, as many Australian shoppers were turning to the internet for their shopping.
"We saw the Reserve Bank cut interest rates on Melbourne Cup day and it didn't really have much of an impact," he said. "It may play a part but it's unlikely to be a real turn around for retailers."
The consumer discretionary sector, which includes retailers, media companies and gaming companies, was yesterday up 1.2 per cent as the market as a whole gained a similar amount.
- AAP