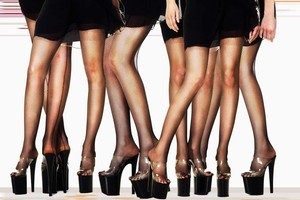 Luxury fashion brand Mulberry has hailed the "march of the new order" of travelling Asian and Brazilian shoppers for driving a stunning uplift in half-year profits and sales.
However, the group - best known for its handbags endorsed by celebrities - saw a sharp slowdown in underlying sales growth to 18 per cent over the past 10 weeks.
This was blamed on comparisons with soaring revenues in the same period in 2010, driven by the introduction of new ranges in its popular Alexa and Bayswater bags, which sell for up to £3500 ($7080) each.
Still, Mulberry chief executive Godfrey Davis struck a bullish tone on growth prospects, as it plots nine new stores globally in the second half.
He said: "We expect to continue showing a healthy rate of growth - that's the underlying story."
Fashion groups such as Mulberry and Burberry have continued to power ahead, as well-heeled shoppers globally show few, if any, signs of cutting back on buying luxury products.
Mulberry grew its pre-tax profits by 231 per cent to £15.6m over the six months to September 30, helped by a 2.3 per cent rise in the group's gross margins to 66.2 per cent.
Surging retail sales up by 47 per cent also galvanised its profits.
Matching this underlying sales figure, Davis said there had been "good growth" around Britain at shops in cities such as Birmingham, Glasgow and Cardiff. But he highlighted the uplift in London driven by overseas tourists.
"We're seeing more of the travelling consumer visiting London and seeking out our stores. The tax-free shoppers have increased in our Bond St, Harrods and Selfridges [shops].
"We're seeing significant numbers of Chinese in London and also Koreans, as well as Brazilians in London and New York. It's almost the march of the new order."
South Korea was Mulberry's fastest-growing country over the half-year, with a strong performance in Hong Kong.
Boosted by a 93 per cent rise in wholesale orders, Mulberry's total revenues jumped 62 per cent to £72.3m.
The growth rate, helped by inter-national expansion, is illustrated by the fact that its half-year sales surpassed those in the 12 months to March 2010. "This rate of growth is above our planned rate," Davis said.
Mulberry shares are up nearly 70 per cent this year at £15.
- Independent