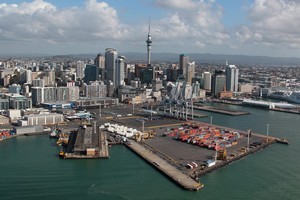 Maersk, the world's biggest shipping line, has been only too happy to play this country's ports off against each other. It was at it again this week, shifting one of its biggest container services from Auckland to Tauranga.
On the way through, it took a shot at trade unions, saying strike action at Auckland had played a part in its decision. That seems improbable. Maersk's switch, which takes effect tomorrow, would have been the result of months of analysis, not the upshot of a few days' industrial action. Nonetheless, the shipper's decision has again highlighted its influence, not least in the way this can run counter to the national interest.
Maersk last adopted such a high profile five years ago when it announced the bulk of its North Island service would go through Auckland at the expense of Tauranga. At the time, the two ports were planning to merge into a "super port", thereby leading a much-needed rationalisation of the national port structure.
Maersk's announcement upset the balance of the negotiations, which then ceased. Its intervention meant a resumption of the fierce rivalry between Auckland and Tauranga. And it allowed Maersk, which has 40 per cent of the New Zealand shipping market, to continue to call the shots over contract pricing and scheduling.
This situation has had unfortunate consequences. It led, for example, to the taxpayer pouring $6 million into a railhead for Ports of Auckland's container terminal at Wiri.
Never mind that Port of Tauranga had funded an "inland port" for Auckland nearby at Southdown. With the switch of Maersk's weekly Southern Star service to Tauranga, Auckland exporters and importers will have to bear the extra cost of freighting goods to and from Tauranga, or to other alternatives.
The national interest lies in heightened efficiency, not least in ensuring that internal transport does not add unnecessarily to the expense of exporting and importing goods.
That, however, is far from uppermost in Maersk's mind. The chopping and changing of its container services keeps the focus of Auckland and Tauranga on short-term gains, not the bigger picture. This would involve a union of Auckland and Tauranga, which control 60 per cent of New Zealand's container traffic, in the interests of importers and exporters and the country's international competitiveness.
The good sense in a partnership does not end there. Tauranga has made the most of its impressive productivity, transport links and a strong sense of enterprise to become the country's largest export port. Auckland is, thanks to its population, the logical import point. The two ports should run on that basis, combining capacity and skills, rather than duplicating facilities through ill-judged competition.
Auckland must also pay attention to the public urge for a more pleasant and accessible waterfront and fewer trucks on the road. This should be another strong counterpoint to the parochialism that has stood in the way of rationalisation.
The Auckland Council, the owner of the Ports of Auckland, would be serving both the local and national interest if it were to reignite negotiations for a merger or, failing that, a joint venture. And Tauranga should be aware that Maersk took care to indicate its service switch was not necessarily permanent, and that Auckland will always have natural advantages that appeal to shipping companies.
Maersk's move means Tauranga would certainly be an equal partner in any partnership. The factor that caused negotiations to founder five years ago has gone.
It would be ironic, indeed, if the Danish shipper's machinations meant it lost much of its bargaining power to a new super port.