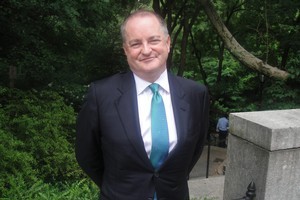 A Christchurch businessman accused of a $103 million fraud will appear in court again just days before Christmas.
Gavin Clifford Bennett, 53, has been accused by the Serious Fraud Office of orchestrating a massive fraud that involved a Ponzi-style scheme and false accounting over the past six years.
His case was due at a Christchurch District Court hearing this morning but was given a registrar's remand until December 22.
He did not appear in court today and continues to be bailed to a Christchurch address.
But last month he appeared in court from custody to face the raft of charges.
A former Datasouth Group director in Christchurch, Bennett allegedly created false documents relating to the lease of IT equipment to fraudulently obtain funds from South Canterbury Finance totalling $65.5 million and allegedly falsified entries in Datasouth Finance financial statements by an estimated $38 million in order to retain the ongoing finance facility.
The SFO alleges he used the dishonestly obtained funds to repay earlier false lease agreements in a manner similar to a Ponzi scheme and to meet business expenses.
He also allegedly used a significant amount of money for his personal benefit.
Ultimately, the resulting financial loss to South Canterbury Finance was an estimated $26 million, the SFO claims.
SFO chief executive Adam Feeley said he believed the fraud had a "very significant financial impact on South Canterbury Finance", which collapsed in 2010, owing investors about $1.7 billion. The taxpayer bailed them out.
As a direct result of the alleged offending, the Datasouth Group went into liquidation in March last year, leaving all 42 staff without jobs, the SFO said.
Mr Feeley said: "The findings of our investigation allege a very sustained and large-scale fraud that not only had a very significant financial impact on South Canterbury Finance, but also, ultimately, on the staff of Datasouth."
The allegations connected to South Canterbury Finance relate to alleged false documents for the lease of IT equipment. The resulting financial loss was an estimated $26 million.

- APNZ