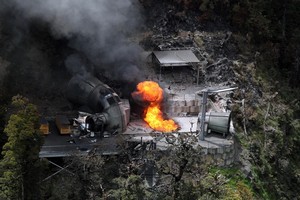 The "horrified" chairman of the Pike River Coal board claims he would have taken immediate action if he had known about safety problems plaguing his company's mine.
Pike River Coal chair John Dow this afternoon this afternoon admitted miners were in danger at his company's explosion-hit West Coast mine.
He said management, including former chief executive Gordon Ward and mine manager Peter Whittall, had kept safety problems from the company's board.
"If I'd known it, we would have done something about it."
Counsel this afternoon revealed a litany of problems at Pike River, including a report citing "great" concerns about methane outbursts.
Reports showed gas levels spiked to explosive levels six times in five days in October last year - about a month before the mine exploded.
Evidence tabled by counsel for the Pike River families also showed the mine's lone safety manager Neville Rockhouse was under extreme stress.
A former assistant described Mr Rockhouse as a "great risk of heart attack or breakdown" because of the demands placed on him.
Mr Rockhouse had tried to resign twice but been talked out of his decision.
Mr Dow said he was disappointed he was never told about the failings inside the mine and the pressure felt across its workforce.
He was repeatedly asked whether the board would have taken action had they known about the safety failings at Pike River.
"I would have yes. I would have known and I wouldn't have tolerated it," he said.
Many of the safety problems uncovered by the commission had been disturbing, Mr Dow said.
"There have been a lot of things that have come out that I have been horrified at."
Safety failings not reported
Earlier, the inquiry heard that senior managers at the Pike River coal mine did not report a series of potentially catastrophic safety failings to their board.
In one case, former mine chief executive Peter Whittall allegedly took his safety manager "to task" for informing the board about events inside the mine.
Pike River Coal board chairman John Dow is giving evidence to the Royal Commission of Inquiry into last year's West Coast mine disaster.
Royal Commission counsel Simon Mount showed him a series of reports on safety failings inside the mine from 2009 and 2010.
They showed potentially explosive gas levels were detected six times in five days at Pike River in October 2010 - about a month before 29 workers were killed when an explosion ripped through the mine.
Another reported potentially flammable gas mixtures in an electrical substation, while many entries showed safety systems inside the mine were being bypassed.
Inadequate leadership, ventilation, monitoring, management and engineering were among the problems cited.
In one case, a mine deputy threatened to write a formal letter to the Department of Labour mines inspector if safety issues were not addressed.
Mr Dow was repeatedly asked whether he thought the safety issues should have been reported to the board by mine management - which included former Pike River chief executives Gordon Ward and Mr Whittall.
The "high potential" events should have been reported, he said.
But he claimed Mr Ward, who has refused to appear before the commission, was responsible for making sure the mine was safe.
"You can't put Mr Ward aside. He was the company's chief executive."
Mr Mount was then shown a written submission from mine safety manager Neville Rockhouse.
It alleged Mr Whittall had taken him "to task" for including Mr Dow in emailed updates on the mine.
Mr Dow said he had been receiving safety updates from Mr Rockhouse, but had been taken off his email list at some point.
Suppression bid rejected
Earlier, royal commissioners rejected a legal bid to suppress key Department of Labour evidence at the inquiry.
Lawyers acting for Pike River Coal Ltd, its former chief executive Peter Whittall, other company executives and Valley Longwall International Pty Ltd applied to keep a DOL investigation titled "Pike River Mine Tragedy 19 November, 2010" secret.
The investigation forms part of the evidence for 25 health and safety charges levelled against the applicants last month.
They argued the investigation should be restricted to the commission and parties with a "legitimate interest" in receiving it.
That request was turned down by the Royal Commission of Inquiry on the grounds it contained useful information.
The inquiry hearings were of public interest and should be reported accurately, its ruling said.
"A further concern is that the suppression orders sought, if granted, would have the potential to distort a proper understanding of the evidence."
However, the commission said the DOL investigation would not be widely available on its website.
It would only be released to those who applied for it in writing, but only if the Commission determines that the applicant requires the report to effectively participate in the inquiry;
A Royal Commission of Inquiry spokeswoman said the evidence was part of an investigation leading up to charges being laid, and was therefore different to other evidence received by the commission.
"The Commission needed to strike a balance between the use of the report for its purposes and the sensitivity around it as part of the DOL and criminal investigations."