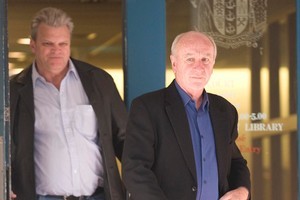 A former Bridgecorp manager was so stressed she could not eat or sleep months before the company collapsed, a court has heard.
The trial of former Bridgecorp directors Rod Petricevic, Rob Roest and Peter Steigrad continues in the High Court at Auckland today.
The Financial Markets Authority accuses the trio of misleading investors, and Petricevic, Roest and Steigrad each face 10 Securities Act charges of making untrue statements in the offer documents of Bridgecorp and Bridgecorp Investments.
The accused deny the charges against them. Fellow director, Gary Urwin, and the company's former chairman, Bruce Davidson, pleaded guilty to the charges.
Petricevic and Roest also face eight charges under the Crimes Act and Companies Act of knowingly making false statements in offer documents that Bridgecorp had never missed interest payments or repayments of principal to investors.
Bridgecorp collapsed in July 2007 owing $459 million to 14,500 investors.
The company's former investor services manager, Christine Todd, appeared as a Crown witness today and said Bridgecorp continued to process re-investments and take new investments despite missing interest payments.
The Crown alleges Bridgecorp began missing interest payments from February 7 2007, but Petricevic's lawyer, Charles Cato, argues the director was not aware of the defaults until a board meeting shortly before Bridgecorp went into receivership.
Todd said Petricevic and Roest were aware of the missed payments, but after cross-examination could not say for certain if the directors knew of them until April.
"I would have thought they would known (before that)," she said.
The directors signed a certificate, extending the life of Bridgecorp's offer documents, on 30 March 2007.

Missed payments were not disclosed to investors when it was signed.
Todd also told the court she was required to select which investors would take priority for payment if there was not enough to funds to pay everything due on a given day.
The process was "agonising", she said.
After Bridgecorp missed a run of quarterly interest payments due at the end of March, Todd resigned from the company.
Todd left because the worry from her job "wasn't worth it", she said.
"I'd had enough. The stress levels were too high I couldn't sleep I couldn't eat," she told the court.
The trial continues this afternoon, when the Crown will bring former Bridgecorp treasurer John Welch to the stand.
Following this, proceedings will be adjourned until January 23.
The trial is wrapping up early for the year because Steigrad's lawyer, Brian Keene QC, has fallen ill.