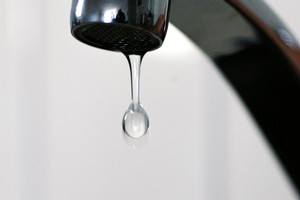 Sometimes the line between altruism and commercialism becomes rather blurred.
Bottled water retailer Tony Falkenstein was in the headlines yesterday talking about the 5000 free water cooler units he has installed in South Auckland homes.
He said he was commissioning "professional research" over the next two years to see whether the units would wean the families off soft drinks.
Apparently the novelty value of the machines is effective in diverting the simple folk off sugary fizz, which is bad for their health.
However, nothing in life is free, and this exercise isn't philanthropy.
Customers have to pay $1 a litre for the water that is delivered to their homes in 15-litre bottles.
Mr Falkenstein says that's cheaper than cheap colas which, he quotes, is $3.99 for a 2.5-litre bottle.
What is not mentioned is the price of tap water, which is piped to every house in the city for a fraction of his delivered price.
Auckland residents, whether in South Auckland or Remuera, can turn on the tap and download not just one litre, but 1000 litres of water for just $1.30.
His company, Just Water, advertises its bottled water as "high quality, refreshing, tastes good" and even "delicious".
But is it really 1000 times more delicious than tap water?
Why would it be? Auckland's water supply is as good and safe as any in the world.
It's obviously a crucial part of Just Water's marketing tactics to portray this selling of hugely overpriced water to poor families as part of a public health drive.
Indeed, it seems to be part of a worldwide bottled water industry ploy.
On its website we read: "The International Bottled Water Association (IBWA) today issued the following statement in response to findings related to healthful hydration, released September 15, 2011, at the Sustaining the Blue Planet: Global Water Education Conference.
"The findings, presented during the conference's Healthy Hydration Symposium, show that proper hydration, such as choosing water, can reduce weight gain and contribute to risk reduction of type 2 diabetes.
"This research reinforces the important role of drinking water, including bottled water, as part of a healthy lifestyle."
This takes me back a few years to when a salesman did the rounds of South Auckland schools and bragged that he sold nine of them "filtered water fountain systems" at $2300 a pop.
One school principal was reported as buying three at first, and then gaining extra funding from a local gaming trust to buy another three.Why?
"We wanted to get the chemicals out of their [the kids'] drinking water, and because we've banned soft drinks at school we needed to offer a decent alternative."
The salesman claimed his water fountain filtered out chemicals and contaminants such as chlorine, arsenic, bacteria, copper, potassium ...
Why a highly educated principal fell for this sort of talk I have no idea.
That nine did, highlights how gullible even smart people can be, particularly when matters of health are concerned.
No doubt the filters in the system being peddled did remove such contaminants.
But if the schools had checked, they'd have discovered the public water supply already met every public health standard going and needed no such filtering.
There's no doubt a serious problem exists with diabetes in the poorer Polynesian community.
And the experts point to cheap sugary foods, in particular, and various bottled fizzy drinks, as a culprit.
But if the residents want water, there's always the tap.