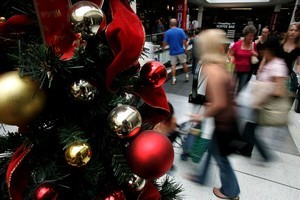 The first weekend of December kicked off the annual Christmas shopping season with retailers reporting business already picking up.
It seems that with the election out of the way and the World Cup safely stored in the NZ Rugby Union's trophy cabinet, people are in the mood for some Christmas spending.
Hamilton shoppers were out in force at the weekend, many making the most of the specials already on offer.
A spokeswoman for Westfield shopping malls said the rain in parts of the country meant a number of centres got lots of foot traffic.
"Indications are that people have realised that Christmas is only a few weeks away so they are out in force," she said.
Hamilton Central Business Association general manager Sandy Turner also reported a busy weekend of shopping.
"Things have started to pick up since last week and we're seeing a lot of people getting in early to pick up their Christmas gifts."
Hot items for shoppers this year were android smartphones, jewellery and arts and crafts, she said. "Even our local watch-maker texted me at the weekend to say he was getting a lot of people coming in."
Ms Turner said the Christmas rush had started much earlier than in previous years.
"We're very influenced by the farming community and economy here in the Waikato. It's doing well so that ripples down to us," she said.
"There's a little bit more confidence and buoyancy within the community. The election's come and gone and a lot of people are happy and want to spend. Everyone was very cautious last year."
New Zealand Retailers Association chief executive John Albertson said nationwide, many retailers were getting droves of people through the door just under a month out from Christmas.
"New Zealanders traditionally leave it to the last minute. But yes, Christmas shopping has already started."
The Noel Leeming Group - which includes Bond & Bond stores - reported a surge in business in the past few weeks.
Chief executive John Journee said: "Christmas trading is going really well at the moment - slightly more than this time last year - and that's right around the country. We're doing well in the urban, rural and provincial areas."
Some of the most popular items among shoppers were eBook Readers - from $229 - tablet computers such as the iPad, smartphones and digital cameras.
Other top items included baking appliances such as mixers, food processors and coffee machines.
"TVs are still very popular also, but this year it's the one with internet connectivity that people are picking up. Thin screens are also popular.
"And a different one - remote-controlled helicopters. Those aren't for kids, more for big kids," Mr Journee said.
The Retailers Association has a word of advice for those waiting for Boxing Day and New Year bargains - don't.
Mr Albertson said that with many stores already offering great specials, now was the time to get in.
"There's enough good offers. My advice is to do your shopping now."