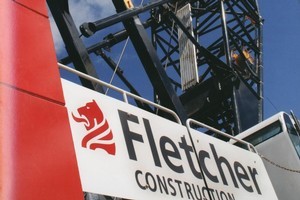 Some investors are unhappy that Fletcher Building conducted an Australian tour just before a profit downgrade - and didn't let on that trouble was looming.
Analysts toured Fletcher's Crane Group on September 28. On October 12, Fletcher issued a shock announcement of a 10 per cent decline in first-half profit to $166 million.
Philip King, investor relations general manager, said the narrow gap between the two events raised comment that executives were made fully aware of.
"We have all had plenty of feedback from investors about the fact that, during an analysts' visit to Crane in Sydney on September 28, we did not provide a trading update or indicate any change in expectations for the earnings in the 2012 financial year," King said.
He defended the company's position and said there were a number of reasons why the bad news could not be revealed sooner.
"The 5.5 magnitude earthquake in Christchurch on October 9 caused the Government to push out expectations of when rebuilding work is likely to begin in earnest until the second half of 2012, whereas we had been expecting prior to the earthquake that this would happen in the first half of 2012.
"This caused us to revise our earnings expectations from the Canterbury rebuilding programme down for the 2012 financial year," King said.
"We didn't have the trading results for the September quarter at the time of the Crane visit, as these were not finalised until October 11.
"Once we had these and realised they indicated our earnings performance would not meet our own internal budgets or market consensus due to deteriorating market conditions in Australia and very low levels of activity in New Zealand, we immediately released the trading update and revised guidance for the full year.
"There is no doubt that macro-economic conditions are troubling investors, in particular how fast the Australian residential market is slowing, and how low it may go, the very modest pace of recovery in the New Zealand residential construction market, frustration around the pace and timing of the Canterbury reconstruction and for Formica, muted signs of any economic recovery in the United States and weak conditions in Europe," King said.
He was responding to institutional shareholder disquiet about Fletcher's Formica acquisition and the profit downgrade.
Investors were happy with Formica's turnaround where operating earnings rose 68 per cent in 2011, he said.
"I believe that those who were dissatisfied with the acquisition and the subsequent early performance issues have long since ceased to be shareholders.
"Overall, it is my impression that investors understand that our businesses are all affected by low volumes at present, and that a recovery in markets will see performance improve markedly. The key judgment they have to make is around the economic outlook for New Zealand and Australia," King said.