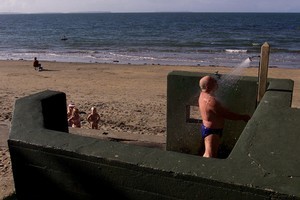 With a lake on one side, beach on the other and a marina thrown into the mix, Milford is heaven on earth for those who love boating or water sports. Its other great asset is its walkability, with nothing in this suburb more than an easy stroll away across mostly flat terrain.
Milford sits on the northern side of Lake Pupuke, which is a favourite with rowers, paddlers, windsurfers and sailors. Sylvan Park at the northern end of the lake is popular with picnickers and has walks and a barbecue area. The lake is also stocked with trout for those keen to try their hand at fishing.
The heart-shaped lake, formed from volcanic craters, has been the base for Alan McIntosh's Madloop Windsurfing for 18 years.
Alan, who ran the business himself at the beginning but now has seven employees, says the area has leveraged off its natural attractions and become more cosmopolitan over the years.
"You're so close to the lake here and so close to the beach, and the whole area feels really safe," says Alan. "The mall's getting better; we've got a French café, a wine shop and heaps of bars."
Alan says the Smales Farm Busway Station, on the route of the Northern Busway, has also made a huge difference to the area.
"I've lived in places like London and Greece where you can get a bus in two seconds but that was never the case in Auckland. But now things are getting better with the bus station, especially for students who rely on that to get to me."
Milford beach, which stretches from Black Rock in the south to Castor Bay in the north, is a popular swimming and strolling spot. The walk around the rocks to Takapuna Beach is a favourite with locals. Beside the beach is a large grassed area and spaces set aside for beach volleyball.
The Wairau Creek, which empties into the sea at the northern end of the beach, is home to the Milford Marina, around which are based the Milford Cruising Club and the Sea Scouts.
Harcourts agent Tony White says; "Milford Marina is a great place to moor a boat, launch a boat, tinker with your boat, or see if you can beat the shags fishing for a feed. It's great to see a shag standing on a pile drying its wings as you fish for sprats with your kids."
With a major hospital and technology park nearby as well as excellent schooling, Tony White says the area appeals to all age groups.
"Everyone wants to live here, from retirees, who find that their mobility scooter will get them to everything they need, to families wanting a great school, and the young wanting a café and bar lifestyle," he says.
Gary Knapp, sales manager at Premium Takapuna, says; "The geographical contrast between the level, orderly landscape in behind the beach out to Lake Pupuke and the sharply elevated northern shoulder of the beach has played a significant role in determining Milford's demographic make-up. Those who reside on the higher ground overlooking the estuary are generally younger and enjoy beautiful views out over the beach to Rangitoto and back to the glittering lights of the Auckland CBD."
Houses in Milford range from traditional bungalows to brick and tile home units, as well as high-end architectural masterpieces.
Property prices
An entry-level property such as a two-bedroom unit on a cross-leased section would range from about $400,000 for a basic abode to $500,000 for a renovated unit with internal garage. An average home of three to four bedrooms on a section of 500sq m or more would cost from $700,000 to $1 million. A large home of at least four bedrooms on a section that is 800sq m-plus would start at $1 million and could cost several million dollars if it is on the lakefront or beachfront.
Rents
Most two-bedroom homes rent for between $350 and $450 a week. Three-bedroom homes start around $400 a week but nice examples rent for $600 a week or more. Large homes of four or more bedrooms start at $600 a week but can go well above the $1000 mark.
Schools in the area
Milford School, Takapuna School, Takapuna Normal Intermediate, Westlake Boys and Girls, Rosmini College Carmel College.
Best streets
Holiday Rd, Craig Rd, Audrey Rd, Saltburn Rd, Cecil Rd and Ocean View Rd. Streets on or close to Lake Pupuke, Milford Marina and Milford Beach command a premium.
Best attractions
Sylvian Park
This park was created to give access to the northern side of Lake Pupuke and is popular for walks or picnics where you can sit and watch the ducks and swans. It is also used as a base for sailing and rowing events. The lake is regularly restocked with trout for those keen to cast a line.
Milford-Takapuna walk
Best taken at low tide, this walk features fascinating man-made and natural sights from the interesting architecture of the coastal homes to the fossil forest on the shore. Mostly easy walking although some scrambling across lava rocks is required.
Milford Marina
The marina can be accessed only a few hours either side of high tide and is a short way up the Wairau Creek. The marina is home to more than 200 vessels, typically of shallow draft. The Milford Cruising