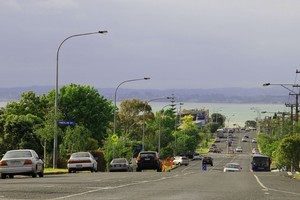 Schooling is a big drawcard for families moving into Westmere but Britt Schollum was blissfully unaware of it when she and her husband bought into the suburb.
"We bought our house in 2003 when I was pregnant with our first child and I didn't even know that Westmere School was just up the road," she says. "It just wasn't something that we were thinking about at the time but we really lucked in."
That's something she is well aware of now, with two children at the decile 10 school and another not too far away from enrolling. Britt says for parents with young children the school is part of the social network, particularly because of the fundraisers required for various school projects.
The good reputation of Westmere School has changed the demographic of the area markedly in recent years. As Andre Bodde, of Barfoot & Thompson, observes: "It's a little bit like nappy valley now," says. "When I started out in real estate (about 15 years ago) it was mostly old people in Westmere."
For Britt, the initial attraction was familiarity with the area, having flatted in Maxwell Ave and she also liked its proximity to the increasingly funky West Lynn shops. The Garnet Rd shops have also improved over the years and now feature restaurants, cafes, a wine shop, and the renowned Westmere Butchery. Catroux, a recently opened café in Westend Rd, is one of Britt's favourites.
"It's handy for me now, having small children, because I don't have to go too far to the shops," says Britt. "And you can still have a bit of that inner city life you had before children because it's only a $8 in a cab to Ponsonby."
Britt says the proliferation of parks and reserves in the area is also a huge bonus.
"On a Friday evening in summer me and some friends will get together and we will go down to the park at the end of our road and have a glass of wine and a natter," she says.
"Cox's Bay park is just beautiful, too, and is good for small kids with the playgrounds there."
In fact, Westmere is mostly bounded by open space, with Cox's Bay to the north and Meola Reef Reserve (a favourite with dog walkers) to the west, which links with Seddon Fields, Auckland Zoo, Motat and Western Springs to the south.
As well as good schooling, families are attracted by the solid housing stock - mostly ex-state houses and bungalows - and the suburb's wider streets, which are quieter than suburbs such as Ponsonby, although section sizes are still relatively small.
Like neighbouring Pt Chev, Westmere used to be a working class suburb but the demographic has changed and real estate prices have risen as young families look for good schooling and better value than is offered by more central Auckland suburbs.
"One of the main drivers is Herne Bay people moving over because they get more bang for their buck and they can afford to be closer to the water," Andre Bodde says. Andrea Ritchie, of Bayleys, says competition for houses is intense within the suburb, as exemplified by a recent sale of a bungalow in Warnock St.
"It captured the imagination of a number of firsthome buyers seeing the opportunity to live in the home as is, with the opportunity to add value or remodel later," she says. "There is a huge appetite for these tidy, sound bungalows and the stats show how tightly held property is in this upcoming neighbourhood."
Property prices
Entry level properties such as a two-bedroom townhouse or terraced house start from $600,000 but much larger townhouses can nudge $1 million. Average threebedroom bungalows start in the $800,000s but can easily top $1 million if they are on a large piece of land or near the water. Four to five-bedroom homes that are modern, renovated or near the water can cost anything upwards of $1.2 million.
Rents
Rentals are hard to find in Westmere, a problem that is exacerbated by homeowners renovating and needing to find a rental until building work is completed. A twobedroom home would normally cost $300 to $400 a week, while three-bedroom homes would typically rent for $500 to $700 a week.
Best streets
Rawene Ave, Westmere Park Ave, Lemington Rd, Tirotai Cres, Sunnybrae Cres, Westmere Cres, Winsomere Cres.
Schools in the area
Westmere School, Pasadena Intermediate, Western Springs College.
Cox's Bay Reserve
With its north-facing aspect and views of the harbour, this park is an oasis for locals - especially as there are playgrounds, sports fields and cricket wickets. A creek meanders through the park, which has a network of paths. West End Lawn Tennis Clubsits to the west of the park.
Garnet Rd shops
What used to be a down-at-heel collection of shops has been revitalised in recent years with the opening of cafes, bars, restaurants and a wine shop. Westmere Butchery is renowned for its quality cuts and a firm favourite of sausage connoisseurs.