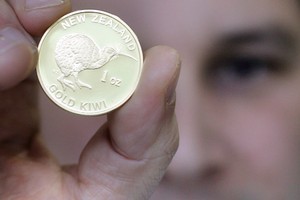 Gold has had a turbulent year, with prices surging to a record US$1921 an ounce before pulling back and trading within a range for the past two months, but where do prices go from here?
New Zealand Mint's head of bullion Mike O'Kane, in a review of the year, said the price influences had been a mix of the predictable - such as the Indian wedding season - and the unforeseen, such as the sharp price run-up in the third quarter.
Europe's credit crisis had been a recurring theme, alongside a credit rating downgrade for the United States.
The second quarter saw gold trading in a range between US$1450 and US$1600 driven by sovereign debt fragility fears in Europe and inflation concerns in the United States.
Negative inflation is usually seen as being detrimental to gold prices. The anticipation of higher inflation usually drives gold prices up, the reverse meaning gold prices weaken.
But all the action started in the third quarter, when gold ran from US$1490 at the beginning of July and peaked at its record high of US$1921 at the beginning of September.
Markets were buffeted by the worsening crisis in Europe, a shock US debt downgrade and deteriorating confidence levels among consumers and businesses.
"My long-term prognosis is based on the understanding we still have a long way to go before any outlying issues are resolved," he said.
"We may yet be due for a very turbulent time, as different solutions for the debt crisis are explored."
The issues in Europe are currently affecting the United States on a state and local level, which is helping to drive long-term physical investment demand in the US.
In the eastern region - China, India, and the Middle East - O'Kane said demand was growing strongly as economies strengthened.
- APNZ