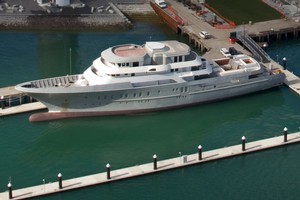 Work on billionaire Graeme Hart's enormous new yacht at the Wynyard Quarter is under way in what could be New Zealand's largest marine refit.
The country's richest man had the hulk of the Weta - or U77 - brought from Chile to Auckland.
Weta's portholes were welded before its 9698km transpacific journey, so work being done inside is kept secret.
Luxury yacht charter firm CharterWorld said the yacht required "complete interior and exterior fitting and will be one of the largest superyachts ever to be fitted out in New Zealand".
"Little else is known about the project, such as the yacht designer or naval architect," CharterWorld said.
Judy Ward, contracts and business manager of Specialist Marine Interiors, refused to confirm speculation that her firm was awarded the big job.
"We're under confidentiality arrangements," she said.
Marine experts criticised Weta's appearance and poor state but were unable to confirm the sale of Hart's Ulysses, which is on the market and could fetch about $85 million.
Drury's Nautical Contracting is boasting of the Weta/U77 job, listing it as a contract of international standing the firm was proud to be involved with. "Nautical Contracting has completed projects on many of the world's finest superyachts ... Current projects involve a variety of refit and new vessel teak decks, including the new mega-yacht U77, presently under construction in Chile."
Andrew Hope, Nautical's general manager, refused to discuss Weta which could accommodate up to 30 crew members and had 35 bathrooms.
One marine executive with a relative working on Weta said work was being kept quiet. "It's all internal stuff. It will be spectacular when it's finished. He wouldn't do anything less than spectacular."
Hart's fleet
$5.5 billion man's boats:
* Weta, pictured, also known as U77: a 77m superyacht moored at Wynyard Quarter.
* Ulysses: the $100 million 58m steel mega-yacht that was previously the flagship of his fleet.
* 021: $10 million, 21m tender bought last year, a catamaran.