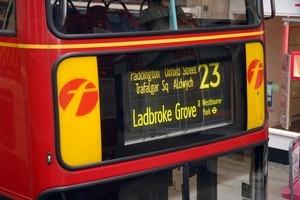 Christchurch-based Tait Radio Communications said it had completed a $19 million contract to provide a new radio communications network for one of the world's biggest urban transport systems - the London bus network.
Tait said in a statement that it had replaced London Buses' existing radio network with a new "TaitNet" system designed and made at the company's Canterbury headquarters.
The new system represented a key part of a major network upgrade by German automotive electronics company Siemens VDO, which was later taken over by Canadian transport systems company, Trapeze ITS.
The upgrade included work on 90 garages and 208 dispatch workstations operated by London Buses.
Tait said the new network meant that communications can be in the form of broadcasts to all vehicles, messages to groups of vehicles or calls to individual drivers.
Other facilities such as emergency "code red" calls are also supported by the Tait system.
The code red emergency call was customised to deliver the location of the vehicle at the same time the call was made.
Frank Owen, Tait's managing director, said New Zealand experience with the Rugby World Cup - when train breakdowns clogged up Auckland's transport network - showed how vulnerable transport systems could be.
He said London Buses will play a key role in transporting thousands of visitors around the city during the 2012 Olympics, so it was important that the network had a reliable radio system.
Tait specialises in radio communications solutions for a variety of industries, including public safety, utilities and urban transport providers.
The company, which exports ratio systems to 150 countries, was founded by Sir Angus Tait, who died in 2007.

- APNZ