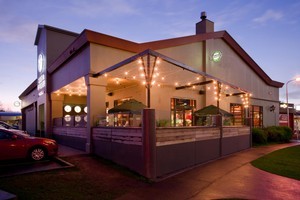 From neighbourhood Cobb & Co to New Zealand's supreme restaurant might sound like an impossible transformation but a group of Hamilton restaurateurs have accomplished it.
Smith and McKenzie director Darrel Hadley said it was a huge job to reinvent his restaurant's brand from an inexpensive and cheerful local favourite, Chartwell Cobb and Co, to New York-style steakhouse Smith and McKenzie Chophouse in suburban Hamilton.
It was not just the image that raised eyebrows. Its location in Chartwell was seen as unusual. "People were surprised about the location but I think our biggest discussion was how to pitch the restaurant to the market," Hadley said.
He bought the site with Jason Macklow and Toby and Nic Elliottyson in 2007 when the Cobb and Co franchise holder was at loggerheads with the franchisor. Smith and Mackenzie Chophouse opened in 2009. The move to a premium restaurant and neighbourhood bar was a big departure from what locals were used to having there.
Hadley said the group had been looking at other sites before discovering the Chartwell venue, which was "right under our noses".
Some of the neighbours were against the restaurant at first. "It's just change ... not knowing what it's going to be like. We had to be careful how we made the change."
They wanted to make sure someone could come in and spend $28 on dinner or could have a $45 steak. Although Cobb & Co had a particular appeal, the focus for his restaurant was on attracting all sectors of the market, "and we have managed to pull it off".
The restaurant picked up the supreme award at the Hospitality New Zealand Awards for Excellence. Hadley said it was a huge accolade for his staff, helped with recruitment, and was a source of pride for locals.
Smith and McKenzie is the only hospitality business in the top 50 of the Deloittes Fast 50, and has enjoyed a 387 per cent growth over three years. "We took over Cobb & Co and traded as that for awhile to get to know the market," Hadley said. "The growth from there was phenomenal."
For anyone with memories of family dinners at Cobb & Co, there is one question that has to be asked: Can you still get a traffic light? Hadley laughed and said that although traffic lights - non-alcoholic drinks with colourful layers - were not on the menu, his team went out of its way to appeal to younger diners.