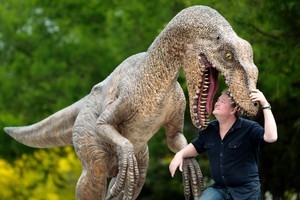 A dinosaur that once roamed the Hawkes Bay is making a comeback at a high-tech water ride opening in Rotorua in January.
Rainbow Springs Kiwi Wildlife Park's project Big Splash is due to open on January 2 and take boats of up to eight people on a nine-minute journey through the ecological evolution of New Zealand.
The 431m flume ride will be able to carry about 500 people an hour when full, starting in the pre-Jurassic period and including the arrival of the dinosaur, Maori and Europeans, with commentary, animations, models and an "adrenaline boosting" 12m plunge into a splash down area.
Auckland-based special effects workshop Mainreactor, which has worked on the Narnia films and Spartacus television series, has built models for the ride including Haast eagles, moa and a 3.5m high, 7m long Theropod dinosaur.
Mainreactor founder Roger Murray said the company had started work on the project about four months ago.
"Been [a] fantastic job, fantastic client, all gone extremely smoothly, it's been great," Murray said.
Rainbow Springs project director Stewart Brown said a Haast eagle would fly on a hidden compressed air ram to attack a moa, while the dinosaur will be startled by the boat while drinking from the flume.
"And he gives you a bit of a bellow," Brown said.
"The Haast eagle's dramatic attack on the moa during the ride shows the power and strength of New Zealand's now extinct massive native eagle, which is believed to have attacked its prey at up to 80km/h," he said. "It will be very dramatic."
The project would cost more than $10 million and included an outdoor 384-seat free-flight bird show auditorium, children's playground and cafe.
The cost of the project was being met by Ngai Tahu Holdings, the shareholder of Rainbow Springs owner Ngai Tahu Tourism. It is the largest single investment made in the park since it opened in 1932.