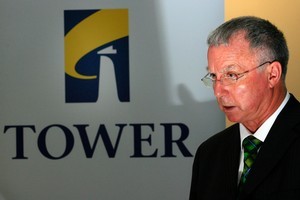 Uncertainty over the future of Guinness Peat Group's 35 per cent holding in Tower is weighing on the insurance and financial services group's share price, group managing director Rob Flannagan said today.
He told APNZ after the release of the company's annual result that, despite there being two GPG representatives on the Tower board, he had "no idea'' as to what the company's ownership structure would look like.
GPG's holding is over 20 percent, which means any prospective buyer of the stake would have to make a bid for the entire company, unless it obtained an exemption under the Takeovers Code.
"We hear a lot of stuff in the market but nothing seems to come of it,'' he told APNZ.
"It's awkward from the point of view in that, we would argue, it keeps the share price down,'' he said.
"GPG have made it plain that it is in wind-up mode, so we know that they are not going to be here in a year to 18 months time.''
Tower's share price has rallied in recent weeks as speculation mounted over what GPG would do with its stake, but the stock has dropped by about 31 per cent over the year.
Another issue for Tower is Christchurch-based insurance company AMI, which has hired Goldman Sachs to conduct a capital raising or an outright sale of the business.
Flannagan confirmed that Tower remains interested in buying AMI but he declined to comment further.
GPG has made steady progress in its plan to divest its assets.
The company has entered an agreement with Germany's BayWa Aktiengesellschaft's to sell its stake in takeover bid for its 63.5 per cent stake in Turners & Growers for $137m.
In September GPG sold its 19.4 per cent stake in Turners Auctions in an off-market transaction to investors for about $7 million.
Tower earlier reported that its net profit fell by 43 per cent to $33.4 million in the year to September 30 as a consequence of the Christchurch earthquakes late last year and early this year.
The company slashed its final dividend to 2c a share, down from 6c last year, taking the total payout for the year to 6c, down from 10c last year.
- APNZ