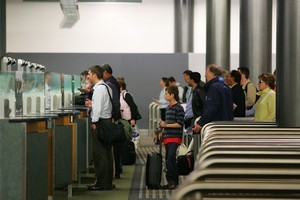 The net inflow of migrants has dwindled and finally turned negative over the past year, but Westpac economists expect it to pick up strongly next year as the Australian labour market cools and New Zealand's picks up.
Of those two drivers, the state of the Australian jobs market is much the more powerful, their research indicates.
They have constructed a model which fits the pattern of the past 10 years closely. It shows that a 1 percentage point fall in the Australian unemployment rate directly boosts departures from New Zealand by 2500 in the quarter, while a 1 percentage point rise in the New Zealand unemployment rate only boosts departures by about 800.
In the year ended October there was a net outflow of 35,000 New Zealanders to Australia. Over the past 10 years it has averaged 22,000.
Within those net figures it is departures from New Zealand, rather than returning Kiwis, that is the more volatile influence, ranging from 21,000 in 2003 to 44,000 in the latest year. Australia's unemployment rate, which was below 5 per cent at the start of the year, has risen to 5.2 per cent and Westpac economists expect it to hit 5.6 per cent by the middle of next year.
The Reserve Bank of Australia, in its monetary policy statement this month, said it expected the unemployment rate to rise "a little" before declining gradually as the economy regained momentum. It is forecasting economic growth of more than 3 per cent a year over the next two years.
Forward-looking indicators of labour demand such as job advertisements and business surveys have been mixed, the RBA said, though most are weaker than earlier this year. "We are significantly more bearish on Australia than the RBA," Westpac chief economist Dominick Stephens said.
"Consumers have had a significant blow to confidence. House prices are falling, interest rates are hurting, and that will outweigh any employment effect from the mining boom in the north and west of the country."
By contrast, Westpac is forecasting a sharp drop in New Zealand's unemployment rate next year, from 6.6 per cent currently, driven by a rebound in the labour-intensive construction sector.
"By the end of 2012 New Zealand unemployment is at 5.2 per cent and Australia 5.6 per cent in our forecasts," Stephens said.
That is not out of line with the consensus, which has the New Zealand unemployment rate at 5.2 per cent by March 2103. "On our estimates that's enough to prompt about 11,000 fewer New Zealanders to move across the Tasman next year compared to this year and about 18,000 fewer in 2013," Stephens said.
"That's a major change in net migration summing to about 0.6 per cent of New Zealand's population."
A population gain of that size would boost both consumption and the labour force. "But it also adds to demand for a limited stock of housing and it is this channel that is likely to have the biggest consequences for domestic inflation."
Reserve Bank research four years ago found that a spike in migration on average led to between one and two houses being built for every 10 migrants and that a 1 per cent increase in population due to migration had been associated with a temporary 10 per cent lift in house prices over the subsequent three years.
"We don't believe the impact on house prices will be quite that strong. In particular, we expect rising interest rates to keep house prices in check over the next couple of years," Stephens said.