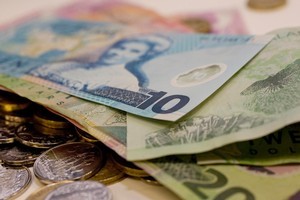 Renewed concern about the United States economy is compounding market volatility resulting from Europe's debt crisis, placing the New Zealand dollar in a precarious position, a bank strategist says.
ANZ head of market economics and strategy Khoon Goh said the currency - which fell to an eight-month low of US74.49c yesterday - could fall further to the "low 70s" against the US dollar in the next two weeks if the global economic outlook failed to improve. The kiwi was at US74.71c at 5pm.
The risk aversion that drove the sell-off in currencies like the kiwi, as well as equities, was fuelled by fears that a "super-committee" in the United States would fail to come up with a plan for making US$1.2 trillion ($1.6 trillion) in spending cuts aimed at lowering sovereign debt.
The committee confirmed yesterday morning that the group, made up of six Democrats and six Republicans, had failed to reach an agreement.
"The focus back on the US is clearly unhelpful and has seen risk pared back reflecting investor concerns," Goh said.
"The kiwi dollar has been pretty much held hostage to wider global concerns."
Markets initially fell across Asia yesterday following 2 per cent falls on Wall St and steep declines in Europe.
The Dow Jones lost almost 250 points, or 2.1 per cent, to finish at 11,547.31.
New Zealand's NZX-50 index fared better, closing down 0.1 per cent yesterday. Australia's ASX-200 closed down 0.7 per cent.