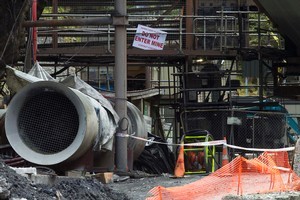 Pike River mine was plagued by rudderless leadership, critical financial problems and poor equipment in the months before it has hit by a deadly explosion, a former worker has claimed.
Masaoki Nishioka, a former Pike River hydro mining operator, is giving evidence to the Royal Commission of Inquiry into the Pike River disaster.
He struggled to find anyone in charge of various operations at the mine when he was employed there in July last year.
The organisation was not functioning, with a lack of "big picture" plans for the development leading to multiple poor decisions, he said.
"I didn't see any strong leadership, neither a strong management."
Mr Nishioka said there seemed to be a divorce between contractors and senior management at Pike River mine - echoing testimony heard yesterday from Minserv consultant David Stewart.
The lack of leadership was shown when he tried to find out about the ventilation system in the risky and gassy mine environment, he said.
"What I received is ask somebody else and ask somebody else and ask somebody else... What I found was nobody taking care of ventilation.
"Potentially [ventilation] is the most important part for underground mining, particularly for a mine which is emitting lots of methane gas."
A critical cash shortage was also making operations difficult at the mine, Mr Niskioka said.
His calculations were that the mine would run out of money in November or December last year.
"I don't think they could spend any money at all."
Mr Nishioka also claimed equipment used at the mine was inefficient for the hydraulic mining operations that were planned.