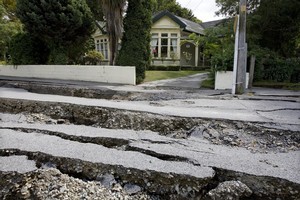 Advocacy services are emerging up to help quake-stricken Christchurch residents resolve disputes with EQC and insurance companies.
Insurance advocate Kevin Seque, a 40 year insurance industry veteran, thought quake work would be a small part of his business, KSL Audit Services, but it has turned into a full time job.
Seque specialises in negotiating settlements for clients whose insurance companies are insisting on repairing rather than rebuilding badly damaged homes.
"I've got 200 (cases) on-going at the moment and they're growing at the rate of two or three a day. Clients are frustrated; they're exhausted. When you go into these houses you can clearly see they are a rebuild... They've dropped by 100 to 140 mm, but they're being told, 'oh we can jack this up.' Where a concrete slab has fractured they're saying they can repair them, when in nine out of ten cases they can't."
Seque says he is selective about what cases he takes on and only charges a "success fee" (usually $2000 to $3000) if he wins clients a rebuild.
"The 11 settlements so far have been on average $70,000 to $100,000 more than the original offers."
EQ-East, founded by former EQC employee Bryan Staples, has carried out 150 independent assessments of quake-damaged homes for property owners unhappy with EQC reports or the standard of repairs managed by Fletcher EQR.
EQC recruited Staples, an experienced Australian loss adjustor, after the September 4 quake but he quit to set up his own quake business in July and all five of his staff members are ex-EQC. "We just got so fed up with the absolute unprofessionalism of the whole organisation from top to bottom."
Staples says obtaining independent assessments is common practice worldwide when negotiating insurance claims. "Here everyone has blind faith. They say 'Oh EQC will look after us.'"
EQ-East charges $8 per square metre for a full quake damage assessment (just over $1100 for an average home of 140 square metres), and $140 an hour to support clients at meetings with EQC and insurance companies, and chase up outstanding claims. Staples says most clients are well heeled.
"We've done $15,000 (house) reports... I'm not backward in coming forward. We're here to make money, but we're providing a service that EQC and insurance companies are not."
EQ-East prepares "habitability" reports for clients when insurance companies refuse to cover the cost of rental accommodation because they consider damaged homes safe to live in, and Staples says there's increasing demand for independent checks on the standard of repair work. "In the last two weeks we've done about 15 and it's growing."
A recent client complained builders had replaced tongue and groove rimu flooring with plywood and failed to level her home as specified in the EQC report. "One end of the fireplace is sticking out of the floor and the other end is below the floor."
EQ-East also project manages repairs for homeowners who choose not to use Fletcher EQR which has so far completed repairs to 5,700 homes out of an estimated 100,000 homes needing attention.
All EQC customers with building claims between $10,000 and $100,000 + GST are automatically referred to Fletcher EQR which oversees repairs carried out by accredited tradespeople, but homeowners can opt out of the EQR system, and by 10 November, almost 1000 had done so.
EQR spokesman Barry Akers is scathing about the emergence of independent earthquake assessors. "They're incentivised to tell you that someone else is doing a poor job and you should turn the job over to them."
Akers says his organisation is in the process of employing a complaints officer but it had received only 62 complaints from home owners compared to 110 positive comments.
EQC's General Manager of Customer Services, Bruce Emson, has responded to the above article with this statement:
"EQC rejects the assertion that we have been unprofessional in our dealings with Mr Staples or our 150,000-odd customers in Christchurch.
EQC has over 500 assessors and estimators working for us at present, and the fact that we are well on target to complete 164,000 post-February assessments by Christmas, at a rate of about 1200 per day, shows we have a strong working relationship with the vast majority of assessors and estimators.
"Mr Staples left EQC following a review of the quality and quantity of our field workforce. Assessments done by Mr Staples prior to his departure have been revisited, and in many cases the standard of work has been found to be well below our expectations."