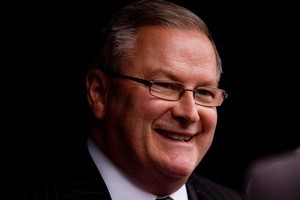 State owned broadcaster TVNZ has announced that its chief executive Rick Ellis has resigned.
Company chairman Sir John Anderson said Ellis would be joining the Australian telco Telstra from January next year.
"Ellis will be leading a new Telstra division called Telstra Digital Media, as group managing director - digital media, with responsibility for Telstra's Sensis, Bigpond, Trading Post and IPTV businesses, and Telstra's partnership with Foxtel," said Anderson.
Telstra chief executive David Thodey said the phone company planned to spend A$100 million over the next four years to upgrade its media infrastructure.
Anderson acknowledged Ellis's 10 years of service as TVNZ chief executive, during which time TV One and TV2 "consolidated their leadership position in the New Zealand free-to-air television market, and the company diversified into digital media areas including on-line, pay TV channels, and new digital free-to-air channels."
Ellis's resignation was widely tipped with speculation earlier this year that he could be replaced by TVNZ's head of sales and marketing Paul Maher.
Ellis's second stint as TVNZ boss began in 2006 after he replaced Ian Fraser who had the unenviable task of trying to run a commercially viable business but with obligations to meet certain standards of a national broadcaster.
The departing chief executive, who also held the top job between 1998 and 2002, is believed to have received a pay packet of between $910,000 and $920,000 in the year to June 30.
- NZ Herald Online / BusinessDesk