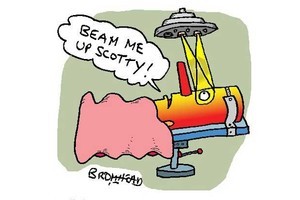 This is a genuine one-eyed column, thanks to my allowing a charming young ophthalmologist to dig around in one of my eyeballs with her knife and fork.
Cataract surgery is a commonplace operation, but facing the procedure for the first time, one cannot help feeling apprehensive about signing the forms that permit others to carry out the work on the presumed basis of all care - but no responsibility.
When a colleague inquired on what professional basis I had chosen my surgeon, I optimistically responded, "well, she's not bad-looking for a start."
I've inherited my latest professional from past specialists who've either died or retired. (You can tell you're really getting old when you've outlived most of the doctors who have valiantly held you together over the years.)
Previous visits to opticians have usually required only adjustments to spectacle lenses as the inevitable acknowledgment of the aging process, but this year I was earnestly advised that the reason I'm not noticing the beer and food stains on my tie any more is because of the increasing opacity creepily removing the clarity of my vision.
I always presumed this was nature's way of cosseting the psyche by gently fogging out the wrinkles seen in the bathroom mirror.
Cataract surgery is usually done under local anesthetic, so you're vaguely aware of what's going on.
The main requirement of the patient is not to cough or sneeze while the surgeon has a scalpel inside your eyeball; otherwise the procedure is no more alarming than having a tooth filled.
The theatre experience is reminiscent of a corny UFO movie.
You're clamped to a table and some sort of flying saucer disc - the operating microscope used by the surgeon - hovers over your head. The disc emits a series of light beams into your eyeball.
I was tempted to murmur "Beam me up Scotty", but with surgical instruments exploring my vitreous chamber, I found it prudent to stay silent and resist trying to socialise with the surgical team.
The following day I revisited my ophthalmologist for the usual post-op checkup.
I was able to impress her with my new bionic eye by reading the tiny name of the printer at the bottom of the eye chart.
Walking home, the old libertine in me also suddenly noticed how attractive all the young women are again - seen through the revitalised eyeball of a 16-year-old. I can't wait to get the other eye done.