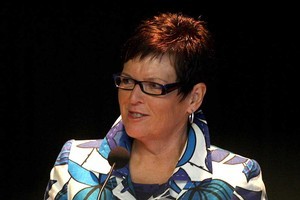 Global Women chairwoman designate Dame Jenny Shipley lent her reputation to moves for publicly listed companies to declare how many women are on their boards.
Women are still woefully under-represented on New Zealand boards and in senior management ranks compared to Australia. But the push by Dame Jenny - who chairs Genesis Energy and is a former NZ prime minister - together with leading players including the Minister of Women's Affairs, resulted in the NZX promoting changes to the stock exchange rules.
Judging by the Mood of the Boardroom survey it is going to take concerted pressure before New Zealand's commercial community gets on song.
Sixty per cent of respondents are against the NZX making disclosure mandatory. Thirty-two per cent are in favour and 7 per cent unsure.
NZX CEO Mark Weldon says some sophisticated global and local investors value the information. "It is easy to provide, and should be disclosed on a gender basis, and on any other basis the company deems relevant to its business area and risk profile."
The NZX proposal follows in the footsteps of the Australian Stock Exchange (ASX) which saw a 50 per cent leap in the number of women on boards within 18 months of instituting mandatory disclosure.
Fifty per cent of survey respondents said just 10 per cent of their board members were women; 21 per cent reported 20 per cent of their directors were female. Just 7 per cent of respondents said more than 50 per cent of their directors were women.
"I can't believe the NZX is only now starting to consult on this, says Porter Novelli's Jane Sweeney. "BusinessNZ and the Institute of Directors are also laggards."
Other female respondents said unless compliance was forced "no change would occur culturally".
Several company bosses said they believed in the best being at the top. "I'm opposed to discriminatory practice which blocks women but unsure about legislation that promotes gender or race as a prime requisite for a role," says South Pacific Pictures' John Barnett.
Others saw no harm in disclosure.
But a capital markets player said this was "dangerous territory" - pushing people into roles that demand experience could end badly for those involved. "I prefer a system of active development to ensure the requisite skills are developed."
"More focus on merit would be helpful to move on the Old Boys Club," said a legal CEO. "That would be more effective than having a mandatory approach that risks having 'token women' on boards."
Twenty-eight per cent said their companies were actively building a pipeline of women for board positions. The comparable figure for senior management roles was 41 per cent. Fifty per cent of respondents said less than 20 per cent of their senior management ranks were women.
Most respondents said gender did not come into it when deciding senior roles. Typical comments were: "What a stupid idea, if they are the correct person for the role, they get it"; "We don't need to - our women do just fine!" and "all positions are contestable and so women can apply as well as men".
But an insurance company respondent said their company did focus on diversity - gender, age and ethnicity - as well as knowledge and experience.
And a resources company boss had a programme to increase the numbers of women in his blue-collar workforce - especially drivers.
BusinessNZ surveys confirm that attracting and retaining staff with the right skill set is a major issue for New Zealand companies and organisations. Respondents said it was important to "ensure the reputation of the company and its employment brand attract the best possible candidates for roles", partner with universities and training institutes to develop pipelines of suitable educated and skilled potential employees, or use bonuses to reward staff.
The plans
Here's what companies plan to do:
* 58% Increase wages/salaries
* 46% Get overseas talent
* 47% Develop apprenticeships
* 96% Offer career paths
* 27% Retain older workers
* 38% Offer incentives for non-management staff
* 37% Send staff on offshore assignments
* 27% Recruit more women
* 84% Give them the best technology.