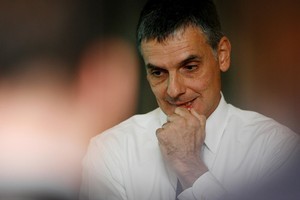 Tax-paid profit at infrastructure investor Infratil fell 11.6 per cent to $88.8 million in the six months to September 30, reflecting the impact of higher interest and depreciation costs and a smaller increase in revaluations than in the same period last year.
However, the company said its forecast for normalised earnings before interest, tax, depreciation, amortisation and financial instruments was still in the range of $460 million to $490 million, while operating cashflows were expected to be about $20 million higher than previously expected, at between $170 million and $190 million.
An increased interim dividend of 3c per share (2.5cps for the first half last year), fully imputed, will be paid on December 16, with shares going ex dividend on December 2.
Chief executive Marko Bogoievski indicated Infratil was evaluating both disposals and acquisitions of under-priced, publicly traded assets, saying there was a "marked gap between private-market and public-market valuations".
"Parties such as sovereign wealth, pension and private equity funds are actively seeking private market infrastructure assets and are measuring returns against very depressed bond yields," he said in Infratil's statement to the NZX. "Conversely, public sharemarket values are depressed."
As a result, some of Infratil's subsidiaries "may have a retention value lower than the price a private market buyer is willing to pay", while some publicly listed assets appeared "very cheap."
"The situation continues to be reviewed," he said.
"It can be possible to buy assets at well below fair value and strained government finances will increase the need for privately funded energy and transport infrastructure."
Ebitdaf in the latest period was up 7 per cent to $272.9 million, with solid performances from TrustPower and NZ Bus, a "satisfactory" first half for Z Energy, and reduced earnings as expected from Infratil Energy Australia.
Ebitdaf for TrustPower came in at $161.6 million ($147.7 million in the prior comparable period), NZ Bus was up 16 per cent on the same basis at $24 million, Wellington Airport showed flat operating earnings at $35.7 million, and Infratil Australia had ebitdaf of $46.2 million, compared with $61.2 million in the same period a year earlier.
Dissatisfaction with the market price of Infratil shares also saw Infratil buy back 1.5 per cent of the equity on issue during the period, while "a major US funds management firm who are an experienced investor in the New Zealand market" bought around 2.5 per cent, as did Infratil management.