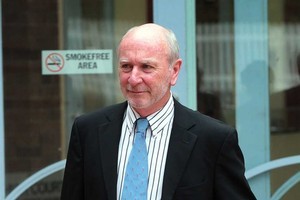 An investor put $1 million in Bridgecorp because he believed the firm to be "sound" but a month later it collapsed, a court heard yesterday.
Rex Warren's tale was one of 15 statements from former investors read to the court in the trial of former directors Rod Petricevic, Rob Roest and Peter Steigrad.
Each face 10 Securities Act charges for allegedly making untrue statements in investment statements, registered prospectuses and extension certificates of Bridgecorp and Bridgecorp Investments.
The charges against the three carry a maximum penalty of five years in jail or a fine of up to $300,000.
The case, being heard in the High Court in Auckland, is being brought by the Financial Markets Authority. It argues the offer documents were misleading because they failed to inform of problems Bridgecorp was facing.
Witness Rex Warren of Katikati had been involved with Bridgecorp since 2004 and had invested four times without any problems.
In January 2007, he put $150,000 into the company and when he sold his home in June of that year he chose to invest $1 million from the sale into Bridgecorp Investments.
A month later, on July 2, Bridgecorp went into receivership, owing 14,500 investors $459 million.
"At the time I made these investments I believed the Bridgecorp company to be financially sound. I had received the company's prospectus and investment statements. My belief was based on information contained in these documents," his statement said.
Hamilton dairy farmer Brian Gordon lost $200,000, which he invested in Bridgecorp a month before it collapsed.
"Bridgecorp had been around for quite a long time and sponsored Waikato Golf. Believing that Waikato Golf wouldn't promote something unless it was [trustworthy] I invested my money," said Mr Gordon's statement.
Mr Gordon said he was offered a higher-than-normal interest rate because of the amount he was investing, but was not told the company was in any trouble.
"We were never informed Bridgecorp was having any financial difficulties ... I have not had any correspondence with Bridgecorp since my investment and I still have not been paid," the court heard.
As well as the Securities Act allegations, Petricevic and Roest face eight charges under the Crimes Act and Companies Act of knowingly making false statements that Bridgecorp had never missed interest payments to investors, or repayments of principal in offer documents.
Other witness statements alleged Bridgecorp had been late in its interest payments to investors from February 7, 2007.
In the defence's opening statement yesterday, Petricevic's lawyer, Charles Cato, said the former managing director was not aware of the defaults until a board meeting shortly before Bridgecorp went into receivership.
Lawyers for Roest and Steigrad also rejected the charges.