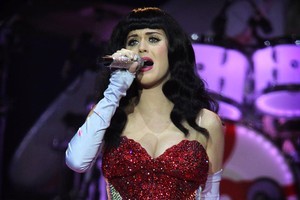 Universal's purchase of half of British music company EMI comes with a sweetener: A promise to preserve the famed studios at Abbey Road.
Universal, the world's largest music group, announced on Saturday it will buy EMI's recorded music business for £1.2 billion ($2.5 billion).
The recorded music division includes artists Katy Perry, the Beatles, Tinie Tempah, Gorillaz and Coldplay.
A consortium led by Sony/ATV announced a separate deal to pay US$2.2 billion ($2.8 billion) for EMI's publishing division - in charge of songwriting copyrights for such artists as Rihanna and Norah Jones.
Both parts of EMI are being sold by its lender Citigroup.
The Wall St investment bank took control of EMI in February after its previous owner, Terra Firma, the private equity firm of Guys Hands, was unable to meet its loan covenants. This came after its ill-fated £4.2 billion acquisition in 2007.
The deals draw a line under a turbulent four years for EMI. As the company found itself in ever greater difficulties with its huge debts, fears were raised last year that Abbey Road could be sold to investors - possibly becoming a Beatles museum and cashing in on the tourist value of its location in St John's Wood in North London.
The news that it will remain a working studio was all the more welcome for an institution celebrating its 80th anniversary this year.
"Abbey Road Studios are a symbol of EMI, a symbol of British culture, a symbol for the creative community," said Lucian Grainge, chairman and chief executive of Universal.
"This is an historic acquisition and an important step in preserving the legacy of EMI Music."
Universal's French parent company Vivendi said it would finance the £1.2 billion acquisition from its "existing credit lines" but would concurrently also sell €500 million ($875 million) worth of non-core assets of Universal. Although job losses are likely among the combined group's 7600 employees, Universal stressed it planned to invest in EMI and that it was "committed to the music industry and the development of artistic talent".
EMI is thought to have suffered from a slowdown in investment as Terra Firma wrestled with its debt mountain and then it fell under Citigroup's ownership.
It was Terra Firma's purchase of EMI that led to the departure of one of its biggest bands, Radiohead, which set the tone for the company's slide. At the time the band's guitarist, Ed O'Brien, said: "It's been taken over by somebody who's never owned a record company before, and they don't realise what they're dealing with."
Mick Jagger was among those celebrating the sale to Universal.
He said: "I particularly welcome the fact that EMI will once again be owned by people who really do have music in their blood."
In the auction of EMI's recorded music business, Universal is understood to have seen off competition from Warner Music Group and BMG Music Publishing.
- INDEPENDENT, AP