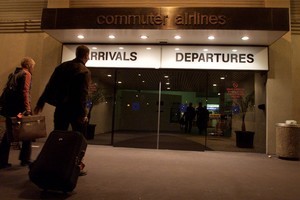 We stayed put for the rugby but now cashed-up Kiwis are heading off on European jaunts.
Bookings have doubled for the same period last year and with discounts at the European travel expo in Auckland today, that number was expected to increase further.
Official departure figures for overseas holiday bookings have exceeded the boom numbers of 2007 for nearly every month.
As expected travel in September was down with Kiwis staying home for the Rugby World Cup.
Flight Centre executive manager Mike Friend said Pacific holidays and cruises were popular but many travellers were heading to Europe.
"A lot of people are taking advantage of great fares and discounts but we also have bookings for the Olympics which are in London next year," Friend said.
"People know they have to get the good deals locked in now otherwise they are going to miss out."
Flight Centre was offering up to $700 off earlybird fares to Europe and up to $1900 off business class fares.
Adrian Turner of Harvey World Travel said the annual Christmas holiday period was busy with many people forward booking.
"Our shops have noticed a steady increase in bookings over the past year and we expect that upward trend to continue throughout next year," Turner said.
Ship voyages were also gaining in popularity with Kiwis.
"Cruising is one of our growth markets with some South Pacific cruises selling out very quickly. While river cruising in Europe is also a popular option," Turner said.
Meanwhile, New Zealand as a destination is heating up for summer. Auckland Airport will have more flights arriving from Asia and Europe - giving the tourism industry a $10 million boost.
Korean Air will use a larger Boeing 747-400 between Auckland and Seoul 10 times each week, adding 30 per cent more seats over New Zealand's peak summer tourism season.
The influx of Asian and European tourists was expected to have a flow-on effect for Queenstown and Rotorua, which have strong tourism infrastructure.