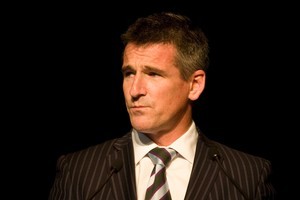 Goodman Property Trust, the listed industrial landlord, suffered a $1.1 million net after-tax profit drop in the latest half-year.
The trust made $29.1 million in the September half-year, down on the previous $30.2 million last September.
Jeremy Simpson, research director at Forsyth Bar, said: "It was slightly ahead of our expectations but helped by lower interest and tax payments than we were forecasting.
"Goodman confirmed existing earnings and dividend guidance and that the leasing market remains very competitive for filling up vacant space or retaining tenants, although the last six months has seen a pickup in development activity.
"Portfolio continues to be sound at 96 per cent full and with a weighted average lease term of 5.4 years and it has a strong balance sheet with comfortable gearing levels of 36 per cent," Simpson said.
Anthony Cheong, associate analyst at Goldman Sachs NZ's Global Investment Research, was not as pleased.
"The result was slightly below our expectations," he said, noting how distributable profit was less than expected, occupancy fell from 97 per cent to 96 per cent and the half-year trend showed rentals were down, partly reflecting higher property related expenses.
Goldman has a hold recommendation on the stock and a 12-month target unit price of $1.
The trust announced it had leased more than 43,000sq m of space for an average term of five years six months in the half-year and a third of the new space was rented to new tenants or customers. Work was started at The Crossing, the new centre at Highbrook Business Park. Super Cheap Auto (NZ) leased 20,530sq m at Savill Link in Otahuhu and Panasonic NZ and Scalzo Food Industries signed up at Highbrook.
John Dakin, Goodman chief executive, said the legislative removal of building depreciation deductions had resulted in a higher tax rate.
Keith Smith, chairman, said the trust's debt expiry profile had improved after Goodman renewed and extended an $80 million syndicated bank facility and raised $33 million equity.
The trust had increased its development activity in the past six months and improving economic conditions would drive that business. But it also warned that land holdings would need replenishing if current demand was maintained.
Leonie Freeman was appointed an independent director on October 11.
Goodman predicted "a subdued economic recovery and sluggish leasing environment over the short term. Medium to longer term prospects for growth more positive, particularly for the industrial portfolio."
Units were trading yesterday at 99c on the NZX yesterday.