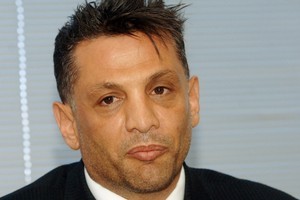 The unsecured creditors of Terry Serepisos are unlikely to see any of the estimated $23.7 million owed to them, says an insolvency report.
An insolvency detail report with asset progress updates has been released, and is the first report since the Wellington businessman Eleftarious (Terry) Serepisos was declared bankrupt.
Mr Serepisos, 48, was declared bankrupt at the Wellington High Court on Monday 26 September.
Official assignee Joanne Basher has completed a report detailing a summary of the businessman's assets, which include eight Wellington properties, a 2002 Riviera boat, four luxury cars, shares in 23 companies, household chattels and an interest in the TSerepisos Family Trust.
So far, 27 creditors have registered claims against Mr Serepisos totalling $28.5m.
Of these, 24 are unsecured creditors who are people or companies that lent money without collateral security.
Ms Basher has indicated in her report that these 24 companies are "unlikely" to get any money paid back to them.
These creditors include the Inland Revenue Department, banks such as ASB, TSB, ANZ and Kiwibank, as well as hotels, finance companies and a law firm.
Mr Serepisos' assets have already begun to be sold off, and his repossessed 2007 Ferarri sold for $205,000 in September.
The report says the process is likely to take three years, and is estimated to finish on September 26 2014.
Multiple creditors and Mr Serepisos did not respond to phone calls today.

- APNZ