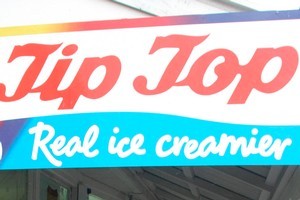 A Dunedin cafe-restaurant is in a David and Goliath battle with dairy giant Fonterra over the trademark name Tip Top.
Earlier this year, the Assistant Commissioner of Trade Marks Jenny Walden gave the green light for Tip Top Restaurant Ltd to register the trademark name for its cafe in the southern city's Octagon.
She ruled that its use would not be taken as indicating a connection with Fonterra in the course of trade.
"Within the New Zealand market there are currently three Tip Tops - bread, ice-cream and restaurant services," Ms Walden said.
But Fonterra appealed the decision in the High Court at Wellington today, saying it would cause confusion because the cafe would be selling some similar products including frozen confections, non-alcoholic drinks, milk beverages and desserts, along with frozen meat, poultry and fish.
Justice Ronald Young has reserved his decision.
The Tip Top name goes back 75 years and is most commonly associated with ice-cream.
Back in 1926, Albert Hayman and Len Malaghan opened their first ice cream parlours - two in Wellington and one in Dunedin.
The same year Tip Top Ice Cream Company was registered as a manufacturing company. Within two years, it was making its own ice-cream and operating successful stores in the lower North Island and upper South Island.
It went from strength to strength, establishing other plants as demand grew, and becoming a Kiwi classic.
The oldest novelty ice-cream still in production is the Eskimo Pie.
These days, New Zealanders enjoy nearly four million Jelly Tips a year. Vanilla, cookies and cream, and boysenberries are the most popular ice-cream flavours.
Just over a decade ago, Tip Top Ice-Cream became part of Fonterra Co-operative Group.
These days New Zealand's leading ice-cream company produces around 35 million litres of ice-cream a year and exports it to a wide range of countries.
Down in Dunedin, the Tip Top was an institution in the central city Octagon from the days Albert Hayman and Len Malaghan opened it as a coffee and milkbar. As times changed, it served as a tearooms.
The lease on the site was sold in 2007 and the latest owner, Barry Timmings, reopened the business - now known as the Tip Top Cafe - two years ago on a smaller site a couple of doors away.
In her decision on the trademark name for the cafe, the Assistant Commissioner said a Colmar Brunton survey conducted on Fonterra's behalf showed there was a strong association between the name Tip Top and ice-cream.
But there was also an association between the name and bread, and with Mr Timmings's Dunedin business.
In its appeal, Fonterra argued that most New Zealanders would be confused or misled by the name Tip Top for a cafe, snack bar or restaurant, and might think it was owned or operated by the ice-cream company.
- APNZ