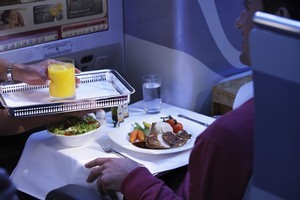 Passengers who upgrade to business class for flights out of London will have to fork out an extra $160 under a new tax.
From December 5, travellers leaving Heathrow Airport will be stung by the British levy, which applies to all passengers upgrading their long-haul seat to business class or premium economy flights from London Heathrow.
In a note sent to Airpoints members last week, Air New Zealand warned customers that the tax would affect any of its customers who used their points to upgrade to better seats.
"While we do everything we can to offer the best-value fares, many countries have Government or airport taxes that we need to pass on to our customers. In this instance, Her Majesty's Revenue & Customs in the UK levies an additional air passenger duty for passengers travelling in Premium classes.
"This air passenger duty has implications under our Airpoints upgrade programme. So if you use Airpoints dollars to upgrade ... we'll need to pass on the cost of this additional air passenger duty."
Passengers flying to Auckland will pay a flat rate of £85 (NZ$168) regardless of whether they are upgrading to premium economy or business class.
Air New Zealand spokeswoman Marie Hosking said because the duty was passed on to Revenue & Customs, it could not be paid for with Airpoints dollars, only by credit card.
The tax would not affect upgrade requests which have already been made.