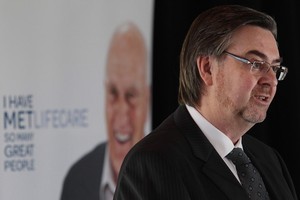 Australian media coverage of moves by the 82 per cent owner of NZX-listed Metlifecare shows how decisions across the Tasman are the real force for change to the Auckland-headquartered retirement village business.
Metlifecare shareholder Retirement Villages is a joint venture between FKP Property Group and Macquarie.
The Australian Financial Review reported this month how FKP Property Group's appointment as manager of Retirement Villages Group followed an agreement with the latter's banks.
As well as agreeing to FKP's control, Retirement Villages Group, which is valued at A$1.3 billion ($1.7 billion), must also raise A$78.1 million in capital by the end of December and provide a new assets disposal programme, the newspaper reported.
RVG lost A$49.6 million in the 2010-11 financial year. Indications in Auckland at Metlifecare's annual meeting on Tuesday were that RVG might sell a big part of its 82 per cent, freeing up the business.
In the next few days Metlifecare, which owns and operates 16 retirement villages, second only to Ryman, will release a Goldman Sachs strategic review. Metlifecare chairman Greg Flood told the meeting that many options, including Retirement selling a stake, were "on the table".
Market sources here said RVG was in a bit of a spot.
"The shareholders in Retirement Villages, an externally managed vehicle, are 13 Australian super funds who have had a gutsful of the poor performance and fee grab by the manager, a joint venture between Macquarie and FKP," the source said.
"It was a poorly conceived structure for Retirement Villages assets. AMP tried to float Summerset Group with the same externally managed structure in New Zealand four years ago and failed.
"The investors in Retirement Villages have insisted that Macquarie depart and that they are not going to tip any more money in so they have to sell assets because they have debt coming due later this year that the banks want repaying."
While the stake in Metlifecare was Retirement Village's largest asset, they also had other retirement village assets in New Zealand and Australia, the source said.
"The only option remaining is to sell down the Metlifecare stake despite trading at $2.10, a 50 per cent discount to the net tangible asset backing of $4.30."