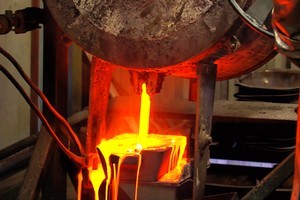 A record average gold price cushioned rising production costs for Oceana Gold as it booked a US$10.9 million after-tax profit for its third quarter to September.
At 59,090 ounces, gold production was down slightly because of adverse weather.
Oceana has revised its annual gold production target with expectations now it will be "at the lower end" of the previously forecast 255,000 to 270,000 ounces this calendar year.
Although it booked a record average gold price of US$1706 per ounce, up 24 per cent on the same period last year, Oceana's production costs increased from US$921 the previous quarter to US$956.
Despite this, Oceana maintained its cash cost per ounce for the year would be US$850 to US$890.
The solid spot gold prices meant Oceana's profit margin per ounce rose 20 per cent from US$625 the previous quarter to US$750.
Oceana shares were up 3.5 per cent at $3.26 yesterday, but on small volume.
Craigs Investment Partners broker Peter McIntyre said Oceana had benefited from increased revenue for the quarter, up from US$83 million a year ago to US$103 million, and a strong cash flow, high gold prices and implementing production cost control.
However, rising production costs and currency fluctuations were still of concern.
"The stronger US dollar has had a more direct impact on Oceana's result, compared to the currency gains made a year ago," he said.
Forsyth Barr broker Suzanne Kinnaird said the third quarter result was slightly ahead of expectations with earnings before interest, tax, depreciation and amortisation up 31 per cent at US$41.9 million on the previous quarter. "Our forecasts are under review, with a modest upgrade expected due to a lower New Zealand dollar in the near term," Kinnaird said.
Oceana booked a US$10.9 million after-tax profit, but it also booked a currency loss of US$22.5 million compared with a currency gain of US$49.9 million a year ago.
Its "loss attributable to shareholders" for the September quarter was US$11.63 million.
Oceana was contacted to comment on the currency loss and responded that the currency translation was a book entry for accounting purposes.
It changed frequently because of the substantial cash on the balance sheet, which for the quarter stood at US$163.4 million.
Oceana chief executive Mick Wilkes said the result was buoyed by the rising gold price.
Oceana is 100 per cent unhedged and sells all gold on the global spot market, with sales of 60,646 ounces during the third quarter, more than 7000 ounces less than the same quarter a year ago.
Oceana has said production will be down this year as it works through lower grade ore. However, the company has made a 15 per cent gain on the previous quarter by mining 2.02 million tonnes of ore compared with 1.8 million tonnes a year ago.
Wilkes said construction work at Oceana's gold-copper development mine, at Didipio on the northern Philippines, remained on schedule.
- Otago Daily Times