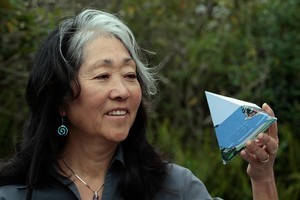 It is well known in business that the autocratic manager is no longer the best model.
The consultative style of management is perceived as best practice, where the leader brings the team's strengths together like an orchestra conductor.
This change of thinking has been grist to the mill for the well-established New Zealand behavioural model, TetraMap, a cross-cultural training tool for better behaviour and performance, which also reduces conflict and inspires leadership in the workplace.
TetraMap uses the elements of nature - earth, air, water and fire - as a metaphor to describe people and their preferences.
"The TetraMap behavioural model is about understanding learning styles, understanding that we are all very different, and respecting that in the workplace," says Yoshimi Brett.
Jon and Yoshimi Brett are co-owners of training company TetraMap International, a publisher and supplier of training resources for people and organisational development.
The Bretts originally set up the company Learnology in 1995, then introduced the brand TetraMap in 2000. In 2003, Learnology changed its name to TetraMap International.
Today, the TetraMap workbooks and leader-guides are available in more than seven languages. The New Zealand-based business has 11 master facilitators around the world, two of whom are licensees.
Most of the TetraMap master facilitators and certified facilitators are in the area of organisational change and leadership coaching.
Over the years the company founders have helped clients such as Telecom, the Ministry of Education and Te Papa through some big change.
More recently Estee Lauder Companies New Zealand has integrated TetraMap into the company as a behavioural model through HR consultant and TetraMap master facilitator, Jan Alley.
TetraMap gives people the confidence about the other people they are working with, says Jon.
"We know we've done a good job when we have a two-day workshop and the leader says, 'I did not realise that I had such a talented group of people working with me'."
Managers can get so immersed in the stress of getting things done it is easy to lose sight of the humanity of the business, he says.
Internationally, TetraMap is being used in Asia, the UK, Europe, USA, Australia and Mexico, with previous clients including American Airlines, Carphone Warehouse, BSkyB and the Singapore Armed Forces.
Ralph Lauren in New York and Atos Origin in the UK are now incorporating it into their training programmes.
TetraMap is also set to become part of the Inspiring High Performance programme run by professional services consultancy, Arcadia Consulting, for 8500 Deutsche Bank executives around the world.
"From New Zealand we have provided a tool that other people are able to take globally," says Yoshimi.
TetraMap International, based in Howick, with one full-time employee and a contractor as well as the Bretts, has a turnover of around $500,000 which comes largely from selling workbooks.
"We don't want to create an empire, we want to create a network of individual business people who have similar passions," Yoshimi says.
"It's about working together interdependently, internationally."