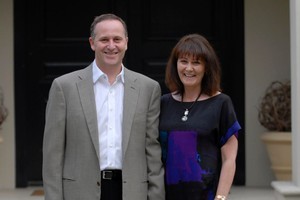 The rich and famous are kindred spirits with common folk this week - anxiously looking up new property valuations on the worth of their homes.
The Herald on Sunday looked at some of Auckland's better known properties to see how they fared.
Prime Minister John Key's family residence in Parnell went from $7.28 million to $9.9 million - up $2.62 million.
One of the biggest surprises was the new capital value awarded to failed Hanover Finance director Mark Hotchin's half-finished mansion on Auckland's Paritai Drive.
Although it was one of the biggest jumps in value, going from $20 million in 2008 to its current value of $22 million, it didn't come close to the $37 million investment that has been linked to the property.
If finished, the sprawling property will include seven bedrooms, a 25m pool, a car wash, tennis court and 12-car garage. The property, sitting high above Tamaki Drive, has a panoramic view of Waitemata Harbour.
Auckland Council valuation team leader Peter McKay said valuations were not based on what a property had been bought for, or how much money had been spent on improvements, but what it might sell for on the exact day of valuation.
Council took into account improvements made that required resource consents.
The home belonging to property mogul James Kirkpatrick and socialite wife Gilda - known as the "Wedding Cake" house - also increased in value. The house on Paritai Drive has gained $1.21 million in value since 2008.
The value of former Prime Minister Helen Clark's humble Mt Eden pad rose $90,000 to $900,000 while former mayor John Banks' Remuera mansion dropped $450,000 from its 2008 valuation of $3.8 million.
The West Auckland house made famous in hit TV show Outrageous Fortune took a hit in fortunes - dropping $10,000 from its 2008 valuation.
With the house belonging to the late Sir Edmund Hillary relocated, the legendary mountaineer's former property in Remuera dropped $140,000 to just under $1.5 million.
The biggest property drop - in keeping with the decrease in the area - was the Chrisco mansion in Coatesville. The 24ha estate was valued in 2008 at $23.3 million but the current valuation saw it drop $2.6 million to $20.7 million.
Rich-lister Graeme Hart's sprawling mansion on the clifftop in Glendowie remained unchanged at $20 million.
The revaluations, effective from July 1 this year, were conducted by Auckland Council's valuation team with help from Quotable Value.
Valuer-General Neill Sullivan, who regulates and audits rating valuations, certified the values as consistent and fair across the region.
Auckland homeowners have until 5pm on December 16 to object to the council over the new valuations.