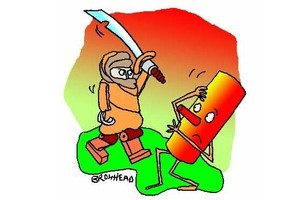 My 6-year-old son has been interrogating me on my Lego knowledge and has found me seriously wanting.
Faced with solving puzzles in the construction toy's latest official annual, I not only failed to save myself from the attack of the skeletons, I also hopelessly befuddled myself in a ruthless fight to the death with some ghastly robotic creature called Fire Lord and his blistering-hot henchmen, cybernuts armed with nitroblast and drilldozer.
How life has moved on. When I last raised children, decades ago, Lego seemed harmless, with most characters taken from everyday suburban life.
I recall friendly truck-drivers and road safety patrol officers - complete with peaked caps and lollypop signs - plus smiling white-coated men delivering milk to your cozy little Lego house, complete with window-boxes and a Volkswagen Beetle in the garage.
Such dwellings have now been replaced with grim-looking barricaded stockades, fortresses to stop the likes of General Nuckel and his skeletons stealing the Golden Weapon of Spinjitzu from some equally sinister-looking ninja warriors.
Window boxes have turned into black scorpions and milk trucks into motorbikes armed with spikes and chains.
The socially responsible road safety officer has replaced his cap with a ninja scarf and carries swords and nunchucks, a weapon so deadly, it strikes the enemy like blue lightning - according to Lego lore.
The latest annual oozes with fearful weaponry; so much so, I had to keep checking the cover to reassure myself the volume is suitable for children aged 5-plus.
Naturally, my son thinks I'm a bit of a wimp for not sharing his enthusiasm for humourless psychopathic warriors programmed to crush victims with the force of an avalanche.
Strangely, in all this Gothic mayhem, one of the ninja is holding a fish for no apparent reason - leaving me wondering if one of the book's creators has subtly introduced the Christian symbol Ichthys, to comfort traumatised parents, hinting that not all the book's creative team is hell-bent on war and mindless destruction.
More oddly, one of the ninja warriors reminds me of someone really sinister in the news recently: the late despot, Colonel Gaddafi.
Of course, I'm sure this is merely coincidence and the only real connection the tyrannical ruler had with the characters illustrated was his embarrassingly significant investment stake of 3.27 per cent (worth about $560 million) in Pearson - the company that produces the latest Lego Annual via Penguin and Ladybird Books.