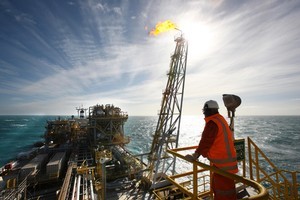 New Zealand Oil & Gas's share price is "ridiculously low", even with the impacts of the Pike River Coal mine disaster and reduced reserves from the Tui oil and gas field taken into account, chairman Tony Radford told shareholders at the company's annual meeting in Wellington.
Radford said he considered the Pike River explosions, which killed 29 miners last November and caused the mine's receivership, "an unforeseen disaster" which NZOG had taken on the chin.
However, with an $80 million insurance payout agreed and the sale process for the mine at the final bids stage, the company was looking forward to being quit of the costly coking coal mine development, of which it was a 29 per cent shareholder.
The NZOG share price has plunged 50 per cent since just before the first mine explosion, on November 19, to trade unchanged today at 62 cents.
That was partly because NZOG had not achieved the "basic objective" of successfully strengthening its profit base, the impact of Pike River, lower reserves and failure to drill a successful well in recent times.
"This has reduced market interest in the company," said Radford in speech notes posted before the meeting began.
But the weak share price also reflected a wider "softening of demand for shares in small-medium companies which operate in the traditional oil/gas sector," he said.
"This factor is evident when you look at the listings on the ASX, with many shares in this sector now selling at a discount to the value ratings attributed by investment analysts. We are not alone in sustaining price falls in this period, because of the mood of the market."
As a result, NZOG's market capitalisation at around $245 million was less than the value of its 15 per cent share of the Kupe oil and gas field, valued at $275 million, let alone NZOG's other assets and prospects.
Departing chief executive David Salisbury presented plans to drill in the Kakapo prospect (PEP51311), offshore Taranaki, in 2012, and said plans were advancing to drill in the company's recently acquired offshore Tunisian acreage, the Diodore prospect, in 2013. NZOG holds 100 per cent of both licences and gave the company the opportunity to farm in other partners.
Radford told shareholders the board was focused on the need to pay reasonable dividends during a time of poor share price performance, although reduced dividends had been inevitable after absorbing the costs of the Pike River disaster.
"However, since January 2011 and into the current financial year, with the profits and cash generated from Kupe and Tui continuing at very healthy rates, the application of our dividend policy, which remains unchanged - that we will pay a reasonable proportion of our available profits as dividends - should lead to the resumption of payment of dividends consistent with those of past years," Radford said.
He also confirmed that recruitment of a new CEO was "at an advanced stage."