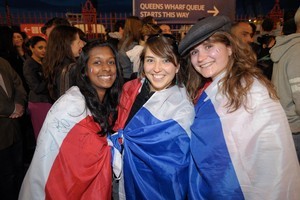 Auckland Airport had an eight-fold surge in French visitors last month as fans of Les Bleus poured into New Zealand.
The latest airport statistics show 8658 arrivals from France - up 707.6 per cent on the 1072 in same month last year. The United Kingdom was up 121 per cent at 19,157 and Australia rose 23.5 per cent at 65,004 people.
Chief financial officer Simon Robertson said the Rugby World Cup had given the airport a "wonderful start so far this year".
"Those rugby loving nations certainly did flow through into strong inbound growth in the month of September," Robertson said. "From Auckland Airport's perspective it's given an increase in passenger numbers at a time where it's not normally our busy period."
Total international passenger volumes were up 5.3 per cent in September compared with the same month last year, while domestic passenger numbers dropped 5.9 per cent, largely due to a delay to the start of school holidays, the airport said.
International passengers offered greater opportunities in terms of retail "so certainly stronger international passenger numbers is a key metric for Auckland Airport", Robertson said.
The airport had not made forecasts as it headed into the summer.
"No, we haven't but we have been seeing so far this year outside of the Rugby World Cup strong Asian growth and we would expect that to continue towards the end of this calender year and beyond," he said. "Certainly over the last few years those traditional long-haul markets of North America, UK, Europe have been a lot softer but we have seen the very strong growth out of Asian markets and in particular China."
Arrivals from China on a rolling 12-month basis were up 19.2 per cent at 132,424 visitors.
Meanwhile, Air New Zealand said it carried 1.2 million passengers during September, which was 4.8 per cent less than in the previous year.
Short-haul passenger numbers in September were down 4.3 per cent on last year, while long-haul passenger numbers dropped 8.8 per cent.
"September activity benefited from the influx of international visitors ... for the Rugby World Cup, which was in line with expectations," the airline said.
"Offsetting this, New Zealand school holidays were shifted from September to October and this has impacted demand accordingly.
"We have also seen generally lower levels of domestic travel due to perceived infrastructure constraints associated with the Rugby World Cup."
Group-wide yields, a measure of revenue per passenger, for the financial year to date were up 5.7 per cent on the same period last year.
Air New Zealand originally expected a $40 million benefit from the World Cup which was downgraded to $30 million when games in Christchurch were cancelled after the February 22 earthquake.
Group general manager for Australasia Bruce Parton said September had been a little lower than expected and October probably a little better.
AUCKLAND AIRPORT
September traffic
* Total international passengers: 650,375 (up 5.3pc)
* Domestic passengers: 493,673 (down 5.9pc)
* Aircraft movements: 13,050 (up 1.9pc)