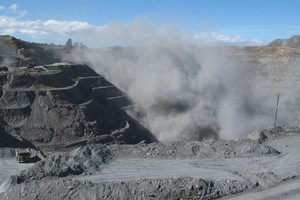 Oceana Gold has floated a long-term concept plan for a "superpit" open-cast mining proposal at Macraes which could potentially increase estimated gold reserves by almost 70 per cent to more than 2.6 million ounces.
The Otago-based mining company yesterday stressed the superpit concept was long term, still being evaluated and a feasibility study had yet to begin, with many details of the size, scope and operational capacity of a superpit still to be quantified.
Oceana is awaiting the outcome of a separate raft of recent resource consent applications from Otago and Waitaki regional councils to continue its mining operations. It is in its 21st year of production.
A presentation by chief executive Mick Wilkes at the Denver Gold Forum last month outlined the "Macraes Superpit Concept" where a larger open pit and new process plant could add an additional 100,000 ounces of gold a year to production, plus separate tungsten byproduct.
This calendar year Oceana has forecast South Island gold production in a range of 255,000 to 270,000oz, but in tandem with a yet-to-be-commissioned gold/copper mine in the Philippines, is targeting annual gold production to increase to 600,000oz by 2016.
Mr Wilkes said that in the United States the superpit concept would mean an expanded open pit, a new process plant and higher mining rate and ore throughput to gain the 100,000oz of gold per year.
There could be a possible increase of the estimated gold reserve in Macraes' open pits from the present 1.53 million oz to 2.6 million oz - a 69.9 per cent increase.
The recent consent applications in Dunedin included a description of the "Macraes phase III project", part of a long-term plan to extend the mine's life from 2018 "to 2020 and beyond" by expanding present operations and reopening previously mined areas, Oceana said in its opening submissions to the resource consent applications.
"Today's high gold price means that previously mined open pits can now be mined deeper. Ongoing exploration may also further define new areas of economic interest," Oceana said.
Oceana's head of business development, Darren Klinck, yesterday said the superpit presentation was a "concept" being evaluated in studies continuing into next year.
"Evaluating this potential opportunity is consistent with our strategy of ensuring we are looking at all opportunities within the organisation to unlock value within our current asset base."
Klinck said that as a producer for 20 years in the Macraes goldfield, Oceana could allocate time and resources to ensure the company was thinking "outside the box", which was what it was doing with this project.
He said it was too early to answer detailed questions on the superpit concept, and did not want to speculate on answers.
It was announced yesterday that Oceana's company secretary, Matthew Salthouse, has resigned after three and a half years, effective from today, "to pursue another opportunity". Otago Daily Times