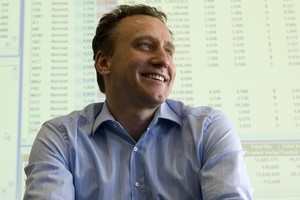 New Zealand stock exchange head Mark Weldon is shifting his attentions south.
He and his wife, marketing and branding consultant Sarah Eliott, have bought Olssen's Wines, at Bannockburn, and took over on Monday.
Neither has run a winery, but Mr Weldon said from Bannockburn yesterday they were "very comfortable'' about their decision.
"The quality of the wine is already world-class and the wine maker is world-class, too. What Sarah and I will be able to add is our business skills.''
Winemaker Jen Parr would remain on staff, he said.
"She's very committed and talented ... we'll be keeping her''.
Mr Weldon said he and Ms Eliott would not live in Central Otago permanently but planned to spend "a very significant portion of time'' there.
Olssen's was the first winery in the Bannockburn area when former owners Heather McPherson and John Olssen established vines 22 years ago.
Ms McPherson said yesterday she had "mixed feelings'' about the sale.
"Twenty-two years is a long time ... It is nice to get some fresh blood and energy here.''
She said she would stay on with Mr Weldon and Ms Eliott for a time but as yet did not know what her role would be, whether she would work full-time or part-time or how long she might remain on staff.
She would continue to live in Bannockburn.
Mr Weldon last week announced his resignation as chief executive of NZX, the operator of the stock exchange, and said he would leave early next year.That was still his intention, he said yesterday.
Weldon's appointment to the top job at the NZX was widely welcomed ten years ago, when he was seen as a breath of fresh air, shaking up the old-fashioned image of the New Zealand Stock Exchange.
The timing of his resignation and the purchase of Olssen's was co-incidental, he said.
He and Ms Eliott had been looking across the country for a winery for the past two years.
Bannockburn and the potential of its pinot noirs had always appealed, he said.
Weldon graduated from Auckland University with a first class honours degree in economics and a Bachelor of Commerce. He studied at the Columbia University School of Law in New York, graduating in 1997 with a Doctorate in Jurisprudence.
He worked for New York law firm Skadden, Arps, Slade, Meagher & Flom and was a senior engagement manager at McKinsey & Co. He also swam for New Zealand at the 1992 Summer Olympics in Barcelona.
Tipped as being a potential National Party candidate, the idea of Weldon as politician gained traction earlier this year when Prime Minister John Key appointed him head of the Government's Earthquake Appeal.
But Weldon himself downplayed any political aspirations at the time.
"It is a great part of the world, and a great opportunity for us.''
- with NZ Herald Online