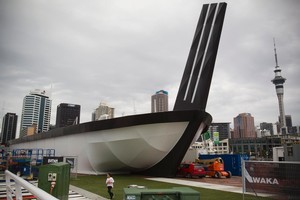 Maoridom's giant $2 million show boat opens to visitors on Friday for an 11-day season at Viaduct Harbour on Auckland's waterfront.
The 74.8m long Waka Maori stands proud and prominent among the ranks of moored super yachts and like them it mixes business with pleasure.
An entertainment centre in and around it on Te Whero Island will show Maori bands, kapa haka and traditional instruments, a daily celebration of Maori rugby, as well as an artisans' village of carvers and weavers, and Maori business promotions.
A dawn blessing yesterday by Ngati Whatua o Orakei kaumatua was attended by Maori Affairs Minister Dr Pita Sharples and later there was a welcome for members of other iwi involved in construction attended by associate Minister of Maori Affairs Georgina te Heuheu.
This included carvers from the NZ Maori Arts and Crafts Institute who will be operating in one of the adjacent marquee.
Waka Maori will be officially unveiled by Prime Minister John Key
International Rugby Board representatives will be among those attending the booked-out function.
Tribal owner Ngati Whatua o Orakei contributed $100,000 of the cost and taxpayers the rest.
The venue's gleaming white "hull" is made from a tension membrane like that used at The Cloud attraction on Queens Wharf and it gives 5.6m headroom.
The waka structure is laminated pine bearing a taurapa or stern post that is 16.6m high.