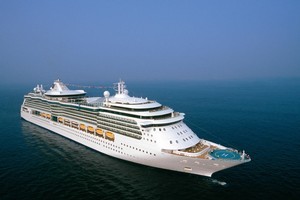 The 90,000-tonne superliner Radiance of the Seas makes its first call to Auckland today at the start of what is expected to be a bumper cruise season.
Royal Caribbean Cruises Australasia managing director Gavin Smith said the vessel would be based in Sydney until April.
"The region continues to be considered an exotic destination," Smith said.
"While the US dollar is weak, cruising represents ... a very affordable way to see both countries because the price of the cruise is relatively stable whereas the price of shoreside hotel accommodation goes up and down with the currency."
The local market was responding to more modern ships, he said.
"The concept for the local market is they no longer have to travel to Europe or North America to get a ship of the highest quality."
Radiance of the Seas, which completed a A$50 million ($63.5 million) refit in May, holds 2100 passengers, with about two-thirds of travellers expected to come from Australia and New Zealand.
Cruise New Zealand chairman Craig Harris said 138,200 cruise ship passengers came to New Zealand during the 2010/11 season, which started in October, with a forecast for 187,000 in 2011/12.
The cruise industry has been forecast to inject $223 million into the economy in 2010/11, rising to about $346 million in 2011/12.
Harris said: "New Zealand's certainly on the international cruise map and we're getting bigger ships and more of them so it's great."
Radiance of the seas
* 293 metres
* 90,000 tonnes
* 2100 passengers
* 860 crew.