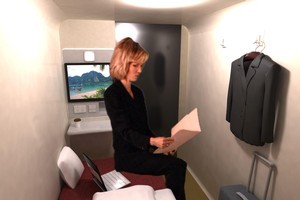 Rotorua kapa haka expert Wetini Mitai-Ngatai is diversifying his business interests by launching a new venture, selling "snooze cubes'' to big international airports.
Mitai-Ngatai and his business partner Larry Swann have launched the innovative concept with 10 of the new snooze cubes now open at Dubai International Airport.
The snooze cube comprises a small modular unit providing a room to relax and/or sleep.
As well as a bed, the cubes contain a small desk, LCD television, music and internet access.
The cubes are sound-proofed with an alarm setting. Users pay on entry for the amount of time they want and at the end an alarm sounds. To prevent the user from possibly missing their flight, the alarm continues until the Snooze Cube has been vacated. Mitai-Ngatai said people paid between $15 and $20 an hour.
The cubes are built in Hamilton and Mitai-Ngatai and his partner have a contract with Dubai International Airport to install a further 40 to 50 over five years.
He said the cubes would be a haven for those travelling with small children or people wanting privacy in a secure, affordable environment.
The innovation was first announced at the Passenger Terminal Expo 2009 in London and Mitai-Ngatai said they had been working on the concept for the last four years.
"My partner (Mr Swann) came up with the idea about four years ago.''
The unit is similar in concept to the Japanese sleeping capsule hotels. They have not gained popularity outside Japan but Western versions with larger rooms and often baths, are being developed. A similar unit to the snooze cube, the sleep box, was launched this year at Moscow Airport.
Mitai-Ngatai and his partner are investigating installing the snooze cube at other airports - including the Middle East and Europe - and he said there was strong interest. They are also looking for investors.
Mitai-Ngatai won the 2011 male leader of the year award at the Te Matatini National Kapa Haka Festival and is leader of the winning group Te Matarae i o Rehua. He is also the chief executive of Mitai Maori Village.
For more articles from this region, go to Rotorua Daily Post