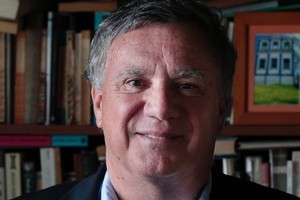 New Zealand should avoid large-scale Chinese investment in farming and infrastructure, a leading United States analyst on the Asia-Pacific region warns.
"I know the capital will be very welcome," says James Clad, a former top-ranking US Defence Department official with close ties to NZ, "but I would find a way to avoid it if I possibly could - or intermediate it.
"If you get into this business of selling your dairy land and all the rest of it, you will regret it. It's just that simple. It's not a message anyone wants to hear but it's not good news."
Several Chinese companies, some linked to China's Government, have been scouting investment opportunities in New Zealand ranging from mining and dairy farming to roading and rail.
Real estate conglomerate Shanghai Pengxin is awaiting Overseas Investment Office approval to buy 13 farms in the central North Island from the receivers of Allan Crafar's empire, and dairy giant Bright Dairy has shown interest in a huge tranche of South Island farms tied to South Canterbury Finance.
The Chinese Development Bank has moved to invest in Christchurch redevelopment projects and is eyeing Auckland infrastructure works including the proposed CBD rail loop and third harbour crossing.
Mr Clad, a Member of the New Zealand Order of Merit for his efforts in Washington to heal the anti-nuclear rift, says Chinese companies see investments as exploitative opportunities.
"I know this is provocative but in my experience you will not get anything. You will get an extractive approach and you will have yourselves to blame if you acquiesce in this."
Mr Clad worked for the Ministry of Foreign Affairs in New Zealand before heading overseas. From 2007-2009, he was deputy assistant secretary of defence in the Pentagon, advising on Asian and Pacific affairs.
He says any Chinese funding of infrastructure projects must contain tight safeguards: "Have that money go into a capital development fund which is specifically targeted for infrastructure improvements."