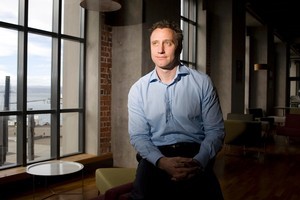 Mark Weldon, who announced today he is stepping down as chief executive of stock exchange operator NZX, says he is not leaving for a career in politics.
Weldon told APNZ that he would be considering his future employment options. Contrary to media speculation over the years, he would not be considering a career in politics. "No, it is not my ambition," he said.
He said he formed a view early in his career at the NZX that he would leave when he felt the company had a good tail wind.
"That feels like now," he said. "It's the right thing to do and that's been my focus," he said.
He said the company diversified under his stewardship.
"I formed a view very early in the piece that we needed to play to New Zealand's strengths."
The NZX is now an information provider and is heavily involved in dairy futures trading.
Equities trading now forms just 5 per cent of the business.
Market insiders said Weldon's resignation came as little surprise, as rumours have been circulating for months that he would step down from the role.
They have mixed views on his performance during the almost 10 years he spent at the helm of New Zealand's stock exchange.
The Wellington-based firm announced this morning the that former Olympic swimmer, who has headed the exchange since 2002, will step down during the first half of 2012.
Craigs Investment Partners head of research Mark Lister said Weldon had been successful in diversifying the NZX's revenue strands into different areas.
The NZX has been the best performing stock on the NZX-50 this year, gaining 54 per cent.
"[His resignation] is obviously a loss," Lister said. "There's been a lot of movement in terms of other members of [The NZX's] executive team of late and Mark Weldon's been the cornerstone."
Market commentator Arthur Lim said there had been speculation that Weldon might be planning to enter politics with the National Party.
He said Weldon polarised opinion, with people's views on the NZX chief generally split into two camps.
Lim said one view of Weldon was that he had done a great job of running the NZX, and provided fantastic returns for its shareholders.
"The other view is much less charitable," he said. "Market capitalisation [of the NZX as a whole] has gone backwards in the time he's been CEO."
Lim said any successful economy needed a thriving, healthy stock exchange.
"Logically that's where the best risk capital comes from, and by that measure the NZX has gone backwards in the last 10 years ... that for me is a worrying legacy."
New Zealand Shareholders' Association corporate liaison Des Hunt said the investor group's relationship with Weldon had been strained at times during the early period of his tenure at the NZX, but had improved over the years.
Asked how he would rate his performance, he said: "I think I'd give it a seven out of 10."
Hunt said it was disappointing there was no immediately obvious successor, within the company, available to replace Weldon.
NZX shares are currently trading unchanged at $2.36 each.
NZX chairman Andrew Harmos said this morning that Weldon had been instrumental in transforming the company from a "one trick pony" into an integrated markets and infrastructure group.
"Listings are obviously an important part of the fabric for us, and will always be, but they are an uncontrollable item,' Harmos said. "It is terrific that the macro settings are allowing those new listings to come to the market, but we are not as reliant on those as we once were," he said.
"The strategy has been for us to move from a simple 'order-matching market' into an integrated markets and infrastructure group," he said.
Weldon did not have a set leaving date, but Hamos said he had agreed to work with the board to ensure an orderly succession process.
In the official statement announcing the resignation, Harmos said under Weldon's stewardship, NZX had grown "from a small and threatened mutual exchange to a thriving information, markets and infrastructure business, with a range of integrated business lines, a healthy balance sheet and a valuable set of options for future growth."
Harmos said that during the period of Mark's leadership the organisation had grown from a 2002 position of revenues of $10.4 million, a loss of $500,000, no dividends and a valuation at $15 million, to its current position of operating profit approaching $30 million, dividends this year of $17.24 million and a market capitalisation of around $288 million.
By the eighth anniversary of its listing, NZX had generated a total return to shareholders of 535 per cent, or 24 per cent per annum.
"Given the strength of the organisation and the wind that is now at our backs, I believe this is very close to an optimal time for both the individual and the organisation," said Harmos.
In the same statement Weldon said, "I have been privileged to have the opportunity to lead NZX throughout this time, working with wonderful, talented and passionate people who care deeply about our markets and the companies that depend on them to grow. Although it's been a very tough decision to leave, I know it's the right time. The organisation is in such good shape, with momentum building that will provide a positive working environment for the next CEO."
The statement does not say what Weldon is going to do after stepping down.
Weldon graduated from Auckland University with a first class honours degree in economics and a Bachelor of Commerce. He studied at the Columbia University School of Law in New York, graduating in 1997 with a Doctorate in Jurisprudence.
He worked for New York law firm Skadden, Arps, Slade, Meagher & Flom and was a senior engagement manager at McKinsey & Co. He also swam for New Zealand at the 1992 Summer Olympics in Barcelona.
Tipped as being a potential National Party candidate, the idea of Weldon as politician gained traction earlier this year when Prime Minister John Key appointed him head of the Government's Earthquake Appeal.
But Weldon himself downplayed any political aspirations at the time.
"That's not on the table. I've got one thing on my mind at the moment and that's this fund and getting as much support as we can for Christchurch."
Weldon said funds raised in the appeal would be applied to "community infrastructure" that was often taken for granted but which had been built up over a century in the city.
Weldon's appointment to the top job at the NZX was widely welcomed ten years ago, when he was seen as a breath of fresh air, shaking up the old-fashioned image of the New Zealand Stock Exchange.
In an interview last month, Weldon said partly privatising Meridian, Genesis, Solid Energy and Mighty River Power, and the selldown of the Government's 79 per cent stake in Air NZ, would change the "thickness" of the market.
"If you put Trade Me, Chorus, and the Fonterra non-voting share together, and put it with tax changes, savings and the SOE policy together, then you have got an interesting two or three years coming up," he said.
Weldon says the market has suffered over the past 12 to 15 years from what he calls three "macro blockers".
The first has been a tax policy that dramatically favoured land and rental property as an investment choice. Changes to the rules on depreciation have meant rental property is not the "free ride" it oncewas.
"If you look at the tax system, it does not yet favour equity investment, but it is not so negative towards it as it once was," he said.
The second has been savings, or the lack of them. Weldon, and others, have pointed to Australia's successful compulsory pension savings scheme, which has snowballed since its inception in 1993.
"You get the sense that we are getting near that point with KiwiSaver," he says.
The third has been where the country's assets are held.
"While it is true to say that the market has remained relatively flat in terms of the number of listed companies, the Government has been sitting on some very large businesses for a long period oftime."
Weldon has high hopes that the debut of the SOEs will change attitudes towards investing.
"Hopefully hundreds of thousands of Kiwis owning shares in something like Mighty River Power - getting a dividend cheque, seeing that the dividend is higher than they could get from the bank, and seeing the share price go up - that's when you get a generational shift."
Almost exactly a year ago, leading market commentator Brian Gaynor said New Zealand's capital markets - which he described as "the lifeblood of a modern capitalistic economy" - had fallen further and further behind the rest of the world.
Gaynor said Weldon had started well, but seemed to have "run out of steam".
The NZX had fallen well behind the ASX and SGX total market capitalisation - important because because stock exchanges were the main way a country's savings were channelled into areas where they are most effectively used.
NZX's market capitalisation had increased by much less than fellow exchanges in Australia and Singapore, said Gaynor, with the value of shares traded on the exchange also increasing much less - 21.1 per cent compared with 311 per cent in Australia and 157 per cent in Singapore.
The low level of turnover on the NZX has encouraged New Zealanders to invest in Australia through the ASX. The number of companies listed on the NZX was also poor in comparison.
"NZX chief executive Mark Weldon started with a hiss and a roar but he seems to be running out of steam against huge headwinds, particularly our low saving rate, poor regulation and the tax advantages of property investment," said Gaynor.
with APNZ / NZ HERALD ONLINE